Sports And COVID19: A Year And A Half Past
As high school sports start to come into full play Athletes and coaches are still having other worries on the horizon . All through summer students and teachers were anticipating the removal of COVID guidelines come August, but in the waning weeks before school would return things changed. Students and teachers were required to wear masks inside the school, unless they had a mask exemption. Outside sports felt normal, with no guidelines being put on the backs of the athletes.
Erie Soccer's Zach Crooks says, "It's great we can focus on the game without getting in trouble for catching our breath". The only fall sport at the moment that has to follow mask guidelines is volleyball.
Volleyball Senior Audrey Moeding believes, "It's just another thing that helps keep people safe, we're just glad to be able to play this year with fans in the stands." The team has flourished to a 8-1 record and are hoping to stay healthy for their final ten games of the season.
Following the last couple weeks, football teams around the state have had to do more than wearing masks Frederick was forced to cancel their matchup against Fort Morgan on September 10th due to the quarantine of most of the players. Most recently Erie played a Longmont team that was without most of their starting players including quarterback Keegan Patterson.
With the amount of cases starting to increase in the state many guidelines might become stricter if the cases don't lower in the following months, the possibility that Erie goes back to the guidelines last year is still a huge possibility.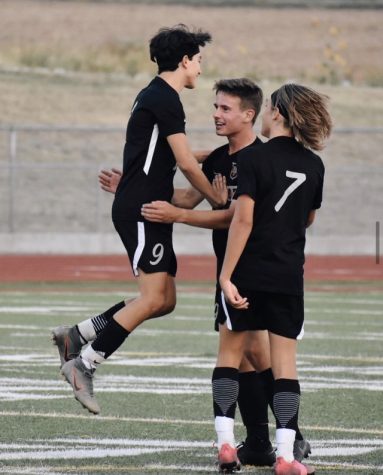 Coach and athletic teacher, Ben Wooching, says, "I can see some things going up, but nothing we are unfamiliar with. We dealt with masks all year last year so we're prepared.". Boulder county health has created a mask mandate leading to the question if this is the start of another quarantine in Colorado.
All players have been made aware to follow inside mask guidelines, including wearing masks in the locker rooms, and staying home if feeling ill. No major games have been canceled yet for Erie , a good sign that athletes and coaches are following the rules. Still,  COVID puts pressure on the sports Staff.
"Contract tracing is still difficult and is a daunting task" says Erie High's athletic trainer, Skylar Tinsley, "myoc  arditis is something that's been scientifically suggested to affect athletes if they get COVID". Myocarditis can weaken the heart by attacking the middle heart wall can cause heart failure and abnormal Harare beat leading to possible death. More reasons why guidelines should be followed and respected around the school and outside of it. Right now Erie's players will keep moving forward in the pursuit of becoming champions.