Anything is Paw-sible For This Senior
As the school year comes to a close, many events and traditions are held at Erie High School. From prom, to spirit week, finals, turning in missing assignments, and trying to get as many yearbook signatures as possible, this last month is a time unlike any other. It is also a time to acknowledge the incredible seniors in the building. One of which is AJ Juenemann.
Juenemann is not only an incredible student, but an athlete as well. The sport he plays, disc dog, is one bound to have people batting an eye when they hear its name. 
Multiple dogs make up the crew of pups that participate in these competitions and practices with Juenemann, and as a group of dogs they compete in a variety of activities. 
The first dog Juenemann got was Trip, who is obsessed with frisbee. Juenemann explains what he does with all his dogs, "Speedie is my main show dog, doing 4-H obedience and rally, as well as some agility and barn hunt work. Nelly I have only had for about a year so we are mainly working on the basics of frisbee but she is becoming a stellar disc dog. I also plan to get her involved with dock diving over the summer."
Juenemann started doing disc dog about five years ago when he convinced his parents to let him get a dog to do agility with as well as show in 4-H. 
Juenemann knew that Trip would be a frisbee dog from the start, "The first day he caught a glimpse of a frisbee at the dog park is the day I knew that is what he thought his purpose should be." Soon after that day, Juenemann was introduced to the sport, "a couple months later we ran into a member of the Colorado Disc Dogs at the Greeley Independence Stampede who introduced me to the sport of disc dog."
Juenemann and Trip have been members and competitors for the Colorado Disc Dog Club, where Juenemann is currently the youngest officer the board has ever had. Through the Disc Dog Club and other opportunities, he has been able to take in Speedie and Nelly as rescue dogs, while simultaneously exploring what the world of dogs has to offer. 
A part of what Juenemann does in disc dog is freestyle. Freestyle is a part of the competition where he and the dogs are judged based on a two-minute routine which is set to music. 
The other component of disc dog is toss and fetch, which is exactly what it sounds like. Juenemann's practice for toss and fetch comes from a worldwide K9 Toss and Fetch league that he is a part of, where they play toss and fetch every Sunday. 
Juenemann and his dogs also attend obedience training which is hosted through Boulder County 4-H.
With all sports, there are some highlights that make everything worth it, that is true in Juenemann's experience with disc dog. His favorite part of the activity he does with his dogs is the connection he builds with them, "On the disc dog field, both Nelly and I have enough trust in each other in order to perform back vaults as well as other maneuvers in which a miscommunication could end badly for both of us."
Juenemann has also been able to travel for his competitions. He has been around the United States for Disc Dog World Final Championships, which take him to states such as Georgia and Tennessee. He would have had the opportunity to travel overseas, yet lost that due to COVID-19. Juenemann is hoping to travel more out of Colorado this summer.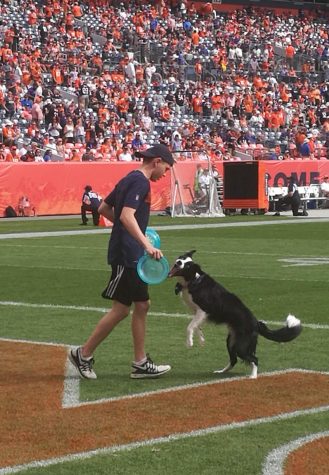 Not only has he traveled out of the state, but he has also had competitions and 4-H shows all over Colorado. He has even been able to perform at a Colorado Rockies game and a Denver Broncos halftime show.
Juenemann is sponsored by Hero Disc USA, and has won a multitude of awards, such as: the 2018 Colorado Disc Dog Rick Brydum Volunteer Award, 2018 Colorado Disc Dog Youth Champion, 2019 Colorado Disc Dog Rookie of the Year, 2019 Skyhoundz Open Combined World Qualifier, 2019 United States Disc Dog Nationals Super Open Freestyle World Qualifier, 2019 United States Disc Dog Nationals Super Pro Toss and Fetch World Qualifier, 2019 UFO Open Freestyle World Qualifier, 2019 Champion Boulder County 4-H Novice Rally Champion, and 2019 Champion Colorado State 4-H Senior Team Demonstration.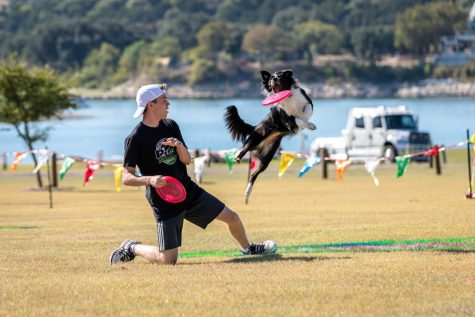 On the academic side of things, Juenemann is a stellar student. The classes Advanced Placement (AP) Calculus BC, AP Statistics, AP Literature and Composition, AP Physics, AP Computer Science A, Senior Design, and Jazz Band fill up part of his already eventful schedule. 
Juenemann has been a member of the Longmont All-Star Jazz Band since eighth grade. The Longmont All-Star Jazz Band is a band composed of high school students from all throughout St. Vrain Valley School District. "We perform at festivals, senior centers, and concerts in the park." He has also recorded three CDs with the band at top studios in the nation. They will be back in the studio in June, working on a fourth CD. 
Some clubs he is involved in include Mu Alpha Theta [Math Honors Society], Green Team, Rotary Interact, National Honors Society, and Tiger Crew. 
Juenemann committed to the University Of Colorado Boulder and plans to major in computer science. He committed to CU Boulder because of its incredible computer science program and more, "I attended virtual tours where I fell in love with the environment. All the staff members were super energized and it was a place I could see myself."
Juenemann has been selected to receive the Boettcher scholarship. The Boettcher Foundation has been awarding more than $100 million dollars in undergraduate scholarships to students all across Colorado since 1952. Students who receive the Boettcher Scholarship are said to achieve amazing things in their careers, and become leaders and people who give back in their communities. Former winners of the scholarship include the former speaker of the House for the State of Colorado, a Nobel laureate, multiple nationally renowned doctors, and a famous voice actor, Dee Bradley Baker.
For Juenemann, the Boettcher scholarship covers the cost of his tuition, room, board, and books. He speaks on how he views the scholarship, "The Boettcher Foundation truly works towards making Colorado the best it can be and I am excited to become a part of the Boettcher family."
Everyone has role models, people they look up to and feel have been influential in their life. For Juenemann, that person is Erie High School band and orchestra director, Doug Carmichael. "He is a prime example of how one should view life and an incredible role model within our school building." With his admirable work ethic and participation within his community, Juenemann is bound to be a role model for others as well. 
When Juenemann walks across the stage at graduation on May 29, 2021, alongside his friends and peers, he will be able to tell the tale of an excellent student, who without a doubt, has a bright future ahead of them. No fleas or ticks can get in the way of the great things Juenemann will go on to do, whatever they may be.