Mason Veve and The Next Big Step
Mason Veve is a senior at Erie High who has incorporated sports into his daily life. From a young age, Veve has played football, now leading him to the next level of his journey, college.
Veve has played a multitude of sports throughout his life including baseball, wrestling, track and field, soccer, and football. He fell in love with football at the age of five, when he joined his first flag football team.
Little did Veve know that this love for the sport of football would set course the rest of his life.
"I started to play flag football when I was five and six.When I was seven I signed up to play flag football, but a buddy of mine asked me if I wanted to join his tackle football team, and I said yes.That is where my journey to Colorado State University [CSU] began," explains Veve.
Veve has always had football in his life. From the moment he entered this world, there were two prominent adults in his life who helped him realize that this could be the real deal. That football could be his path to greatness.
His father and his papa were Veve's two biggest role models growing up, and he wanted to make sure to make them proud.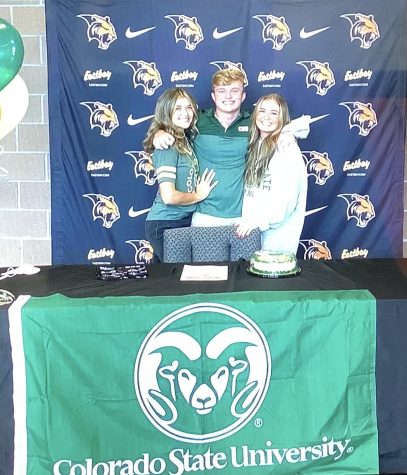 "My father played football for two years in high school, but never when he was younger. My papa, however, played all four years in high school and could have played college football but decided not to," says Veve.
Throughout high school Veve knew he wanted to carry on a legacy that his father and papa could not or did not want to. Veve wanted to get to the next level and make his biggest role models proud.
"I knew when I got a PWO [Preferred Walk-On] from CSU that that was where I wanted to go. It was my dream school and I told coach Cooper that going into my senior year," Veve continues, "I knew that if CSU gave me a chance, I would put everything in and go for it."
Little did Veve know that he was playing for more than his role models, and for a future. He was playing for his teammates, the Lord, and the future of Erie football.
"When he was a sophomore, and Noah Roper got hurt, we were in the state semi finals for the playoffs and Mason had to step up and be the next to the running back. He hit the ground running but unfortunately we ended up losing that game," comments Veve's old teammate Gavin Mendoza.
Veve has been a Christian his entire life, always being in and around the church and has figured out how to use that to his advantage.
"Faith has been a big part of my sports journey. It's always something that I can count on and rely on. I know that first or last, the Lord will always have my back and never give up on me. It's where my real value and worth is from. It is not from first or second or third place, it is from Jesus our savior."
It was not just striving to create a legacy that set Veve on course to achieve his dreams. It was all the other sports that had helped him get to that point. Without important lessons, taught through multiple sports, Veve might not be where he is today.
"Wrestling helped me get over that mental wall of being physical and just giving your all and track helped with the speed and agility. But every sport I've played has helped shape my competitiveness and my will and drive to win. So being a multisport athlete has helped me be competitive and has really helped my game," says Veve.
With so much support in football, Veve knew that this was his sport, and that his best relationships would be a product of the sport he loved. That the people he met here would be his friends all the way through high school and most likely into life.
"I've met most of my really close friends in football. It's not just about the friendship that I've gotten, it's about the community with those people and being really close to them. You go into battle with them and it pushes you to do your best," notes Veve. "You practice with these people at least five days a week, every week. Blood sweat and tears are a product of being around these people. It makes you the best competitor you can be, because you know that they are counting on you."
However, with so much pressure on getting to the next level, Veve has had to overcome adversity inside and out. Keeping a 4.05 GPA, his family life, faith, and just day-to-day work at its best. With so much happening, football has been Veve's escape to relax and do what he loves.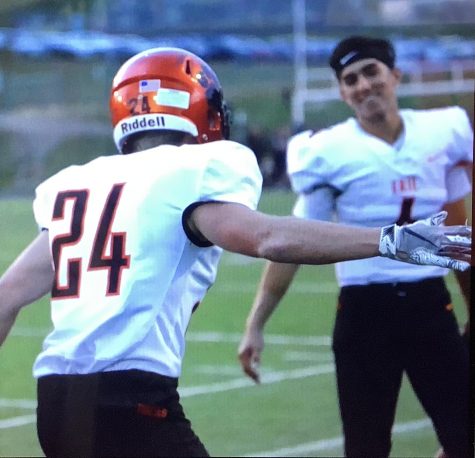 Veve tells us that the coaches and teachers at Erie High have set him up for success and have prepared him for the next level. "Coach Cooper and Coach Higgins have both been really big advocates for me playing college football." Veve continues, "Cooper could not have done a better job. Without him, I don't know if I would be able to go to CSU to play football. He has been a really big help since my junior year. He has sent out film and video of me and has been in contact with all the coaches of schools I wanted to go to."
"The coaches that he had were really good. They put in a lot of work and played in college. They all got us mentally and physically prepared for the next level in any sport. The community at Erie is seen as everybody supporting everybody," comments Mendoza, "I think no matter what, Mason is going to get a good amount of support wherever he goes from the community, family, and friends."
Even with so much support from the community and the coaches at Erie High, the journey of recruitment for Veve was long and tedious.
"This last year with COVID-19 it has been really hard to get recruited. Not very many seniors are graduating because everyone from the football team gets another year of eligibility so rosters all across the country are really close to their max capacity," says Veve. "This obstacle has pushed me to say you know what, to the heck of it let's just give it my best. Let's overcome this obstacle and not let it overcome me and that's been a big part, just defeating the obstacle, not letting it get in my way. It has been a big motivator for me. I didn't want that to be the reason I couldn't play college
football."
However, with so many great things coming Veve's way he will never forget what Erie has taught him and how many great memories he has gotten from here.
How much football and the people at Erie have shown him and how the lessons he has learned here, will help him in the next step.
"My favorite memory at Erie was beating Fort Morgan my junior year to become league champs. We won at the last second and I will never forget the thrill of it all. Between my teammates and I going crazy, and the crowd going nuts, it was almost surreal to me what had just happened," exclames Veve.
With another athlete leaving for college soon, Erie High School is proud to say it is one of their own. Veve is excited for the next four years and is honored to be able to call himself a tiger.