Greatest Paintings Known to Art
Works of genius and beauty
Hang on for a minute...we're trying to find some more stories you might like.
Art is a beautiful thing that shows us history, tells us stories, and tries desperately to establish a meaning to the unknown. Art can also be surreal, translating the atrocities of humanity and our own selves into something that can be seen and whispered about in the world. Art is shameless, and ever growing, and deserves to be known. The following works of art are pieces that have captured history, as well created it.
Scream – Edvard Munch:
The Scream is the name given to the four versions of the composition, which were created using pastels and paint. The Scream series was painted between 1893-1910 by Norwegian artist Edvard Munch, who used the art styles of Expressionism, Modern Art, and Post-Impressionism.
Ballet Rehearsal – Edgar Degas:
Ballet Rehearsal was painted in 1873 by French artist Edgar Degas, who embraces Neoclassicism, Realism, and Impressionism. Over half of Degas' paintings are of dancers, especially Ballet.
Portrait of Adele Bloch-Bauer l (Woman in Gold) – Gustav Klimt:
This painting was created by Austrian artist Gustav Klimt between 1903-1907 in the styles of Abstract art, and Klimt's Golden Phase, and was confiscated by Nazis during the Second World War. Portrait of Adele Bloch-Bauer l (Woman in Gold) was commissioned by the sitter's husband, and later went on to name Klimt as one of the most iconic decorative painters of his time.
Lucretia – Rembrandt:
Lucretia was painted by Dutch artist Rembrandt in 1666, during the Baroque period. Lucretia is painted in the styles of history and the Golden Age. Rembrandt is known for his phenomenal  job of portraying light in paintings, and exhibits this in his series of Lucretia, consisting of multiple paintings. In history, Lucretia was a noblewoman whose rape caused her to commit suicide, which led to the rebellion that overthrew the Roman Monarchy and established Rome as a republic.
The Face of War – Salvador Dalí:
The Face of War was painted by Spanish artist Salvador Dalí in 1940, during a brief time when Dalí lived in California. The painting is in the style of Surrealism, and represents the trauma and destruction of war, and additionally serves as a reminiscence to Dalí of the Spanish Civil War.
Irises – Vincent van Gogh:
Irises is part of a series of paintings that Dutch painter Vincent van Gogh painted in 1889 at Saint Paul-de-Mausole Asylum in France, only one year before his death. Irises is an oil painting in the style of Modern art and Post-Impressionism.
Guernica – Pablo Picasso:
Guernica is an oil painting created in 1937 by Spanish artist Pablo Picasso, and is created in the styles of Cubism and Surrealism. The painting depicts the suffering of people due to violence and chaos. The painting includes flames, a bull, and a gored horse.
The Old Guitarist – Pablo Picasso:
The Old Guitarist is an oil painting created in 1903-1904, and is in the style of Expressionism and Picasso's Blue Phase. The painting depicts a blind, elderly man on the streets of Barcelona, Spain, wearing threadbare clothing and hunched over the instrument with which he makes music.
Portrait and a Dream – Jackson Pollock:
Portrait of a Dream is a drip painting created in 1953 in the style of Abstract Expressionism. Pollock says the "dream" is a representation of the dark side of the moon, and that the painting is symbolic.
Composition 8 – Wassily Kandinsky:
This painting was created in 1923 by Russian artist Wassily Kandinsky as a part of the Bauhaus Movement, and is in the style of Abstract Art. The idea of Abstract art is to use a collection of shapes, forms, colors, and lines to create artwork that exists with an independence from visual references within the world.
The Creation of Adam – Michelangelo:
The Creation of Adam is a Fresco painting created between 1508-1512, on the ceiling of the Sistine Chapel in Italy. The Creation of Adam is in a religious and historical style of art, where the two men in the painting represent man and God, and the space that separates them.
Girl with Hair Ribbon – Roy Lichtenstein:
Girl with Hair Ribbon is an oil and magna (early acrylic) painting, that was created in 1965, in the styles of Modern, Pop, and Abstract Expressionism. This painting was created during the period when Roy Lichtenstein exclusively painted closeups of women, with the objective to decontextualize aesthetic.
Christ Pantocrator Deesis – Hagia Sophia:
Christ Pantocrator Deesis is a Byzantine style mosaic of Christian iconography, located in the former Greek Orthodox Christian basilica Hagia Sophia, in Istanbul, Turkey, that depicts Christ's face with golden light radiating from it.
Race Riot – Andy Warhol:
Race Riot was painted in 1964, and is in the medium of acrylic and silkscreen paint. Race Riot is a depiction of Charles Moore's photograph of a black man fleeing from a dog that is attacking him. Warhol uses the styles of Pop Art and Modern Art.
Apollo (System Copernicus) – Stanislaw Wyspianski:
Apollo (System Copernicus) was created in 1904, in the styles of Art Nouveau, and Young Poland, and was designed by artist Stanislaw Wyspianski as a stained glass window for the Medical Society in Kawków, Poland.
As time progresses, as civilization progresses, as humanity as a collective whole progresses, so does art; not only in quantity, but in thought, in soul, and in meaning.
About the Contributors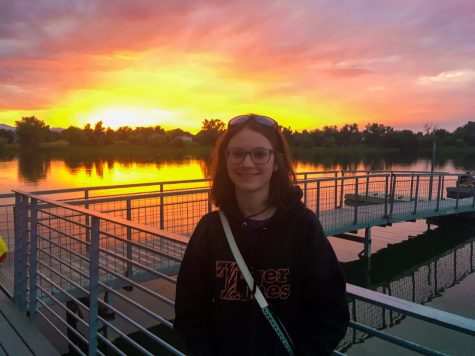 Emma Sanders, Editor-in-Chief
 Emma Sanders is a senior at Erie High School and serves as Editor-in-Chief. She was Copy Editor of the Tiger Times from 2017-2019 and is an ardent supporter...