Erie High's volleyball team finished their 2023-2024 season, fighting until the end during the regional mashup games. Their season, lasting around three months, came to a close with bittersweet tears and a handful of memories to carry into the future. 
Their varsity team finished 18 and 7 overall and 12 and one in their league. Additionally, they were able to beat teams that they hadn't before. Avery Malek, junior setter said, "My favorite part of the season was beating the teams we really wanted to beat and wanted to play. We just felt very accomplished." 
Many girls on the team, specifically as they played teams that have been more difficult to beat in their 5A league, felt they had grown mentally throughout. "The team specifically has become more mentally tough… the Broomfield game for example, we were down two sets to zero, but we came back and won." Francie Mueller, a senior and middle hitter said. 
Sutton Sales, a junior and another hitter on the team, agreed saying, "It was good [as in beating certain schools] because those are our rival schools. It was super fun and exciting that we won." 
Around half of the volleyball team this year were seniors, including Myla Wilkes, Francie Mueller, Mackenzie "Mac Attack" Greenlee, Laina Kitlowski, Lilli Oliker, Hannah Osmann, and Tea Evans. "I hate losing seniors. It's the worst feeling." Malek says, "You spend so much time with them in a short amount of time. You're always with them, they're always with you… It's so sad to see them leave, but it's exciting to see where they're going to go." 
Similar to Malek's remark, Mueller said, "The best part about the season wasprobably seeing my teammates again." She then continues to add that there are many girls on the team that she doesn't get to see otherwise, so spending that time together is really nice for her.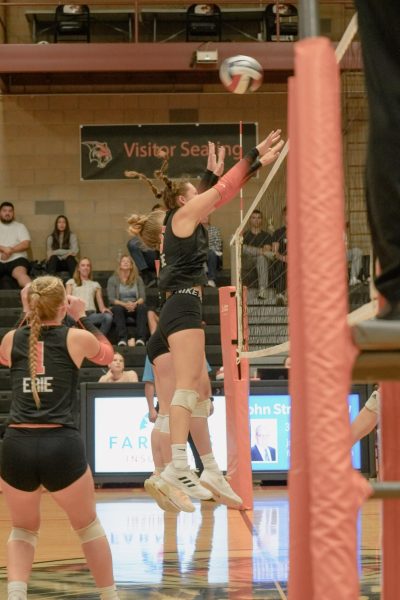 Erie High's last volleyball game for this season was November third, as they battled against Denver East, then Cherry Creek, ultimately taking the loss against Cherry Creek. "Before regionals, I wanted to win, and I could tell that the team wanted to win… we worked so hard and came so far, and state would have been good for us, especially because Erie volleyball is not known for going to state." Malek reflects. She continued saying, "I felt confident the whole game until the last set, and then kind of knew, 'if we don't get our act together, it's going to be upsetting. Then afterwards [after their loss,] it was awful." 
Other girls on the team feel like Malek, Mueller reflects, "I think we were all a little nervous just because it's Cherry Creek, but I just really wanted to win and we put up a good fight. There was a lot of pressure, I felt like we had to win." Sales look on the brighter side saying, "They're a really good team, so I was just like 'let's try our best.'" 
Although the team took the loss this year, younger girls on the team are excited to start the next season. Malek says, "I'm excited to play my senior season… I'm just excited." Sales shares the sentiment commenting, "I'm excited [for my senior season] I just think that we will try to have fun next year." 
The fight continues into the next season as the remaining players for the Erie High Volleyball team will prepare for the battles to come next fall, with the hope of seizing a place at state, and seniors leaving towards different adventures to come.