For an Erie Tiger First Down
November 9, 2018
ERIE, Colorado – It is a brisk autumn night as the howling Erie wind rushes through Tiger Stadium, chilling the packed crowd in the  bleachers. As the team warms up, the crowd begins to file in while Kendrick Lamar, or maybe Drake (the clean version, of course) blares over the loudspeakers. The visiting team on the south side of the field warms up while stealing glances at the other side of the field. They are not looking for a Spencer Brooks pancake block or a Gavin Mendoza touchdown pass through the veil of the Erie backups, JV, and the occasional freshman. They are looking for one person, and one person only.
---
That person was born on October 2, 2000, in Boulder, Colorado.
"I actually hated football when I first started to play," he says with a wide smile. "I hated how all the equipment fit. I was miserable… The worst part was the helmet. It drove me nuts."
His dad corroborates this, "If his shoes were not tied just right, I had to fix them for him. He could not handle anything if it wasn't perfect."
In addition to hating the equipment, he didn't like contact much either, per cousin Ruben Portillo. "He didn't like to get hit" he says with a chuckle.                                                                                                
---
The warm ups are done. The captains walk out onto the field for the coin toss. The eyes of the third graders look up in awe as they hear a motivational speech from Athletic Director Justin Carpenter, or, on occasion, Nate Hackney.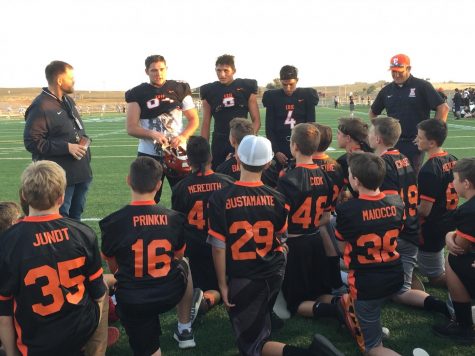 After the coin toss, the players line up behind the banner held by the third graders. They burst through it and run onto the field. The student section comes alive for the first time all night, standing up and roaring as the announcer raises the music to its loudest volume of the night.
Erie sends two players back to receive the kick. The kicking team takes note of which side number 8 is on. "Kick it away from 8" is faintly heard as one of the players yells at the kicker. It is kicked away from 8, and just into the end zone enough to prevent a return.

---
"I started loving football at the first play. It was on kickoff and I ran down the field towards the kid with the ball, and I hit him really hard," he laughs, with a sparkle in his eyes and a wide smile on his face. "I was in second grade."
And Noah Roper has loved football since.
---
The kicking team can kick it away from Roper, but they cannot keep the ball out of his hands when they are on defense. As the saying goes, "You can't stop him. You can only hope to contain him."
The Erie offense runs out onto the field. The stellar offensive line of Spencer Brooks, Nate Hackney, Colby Arlington, David Grassi, and Aidan Meeks heads out first, but the attention of the defense is solely on Roper, who jogs out behind them.
Mendoza takes the first snap and hands it to Roper. He runs to the right side and bursts through the line. Roper sprints past the linebackers and is off to the races. No one in the secondary can catch him as he adds to his growing career touchdown total, having now passed Los Angeles Chargers running back Austin Ekeler in the Colorado record book.
---
It is a Roper family tradition. Football is too, but this is something different. Every Fourth of July, Noah, his three brothers, and his dad always go up to Wyoming on a camping trip.  While reflecting on his favorite memories with Noah that do not have to do with football – and there are plenty of those memories that the Roper family stored up over the years – this is the first thing that comes out of Matt Roper's mouth. His eyes light up as he talks about taking his sons up to Wyoming to spend two weeks in the mountains.
The Roper family has many other great memories that don't include football. The memories do include Ruben Portillo, Noah's cousin, & Noah's brothers convincing Noah that he was a dinosaur.
Noah remembers this fondly, "My brothers, what was really funny, convinced me when I was little that I was an actual dinosaur, and I mean I wasn't young, I was like 8 years old; so I should know I'm not a dinosaur. But they convinced me I was a dinosaur, and I would only eat meat because of that, I would just eat hot dogs all the time. It was (a) bad diet, but, it worked out, you know?"
"He really thought that he was a dinosaur for the longest time," says Ruben with a laugh.
Of course, there are plenty of memories from football too.
---
The Erie defense takes the field soon thereafter. With Erie's fast scoring first drive offense, they do not get much rest before heading out, often only a minute or two into the game. Roper, of course, is on the field anchoring the secondary, but he usually does not have to do much work against the run-heavy teams that Erie typically plays. When he does come up and make a hit, the whole stadium hears the crack of the runner, quarterback, or receiver being knocked flat on their back.
---
Roper's high school career began as a freshman, mainly with special team duties, returning kicks and punts. As a sophomore, he emerged in a larger role, running the ball for 1,310 yards, helping push Erie to their first playoff game in four years, where they would fall to Pueblo East on the road.
Roper's junior year was his breakout season. He put up 2,631 rushing yards to bolster his second all-time 3,310 all-purpose yards. Toss in 39 touchdowns and Erie's first state tournament wins since 2008 and you have one of, if not the best season by an Erie player ever.
But the 2017 season did not have a happy ending. Erie fell 46-21 to Palmer Ridge in the state championship game. Noah's position coach, Steven Higgins, said that the loss has pushed the players to work even harder. "I know Noah has come up to me and told me how they were just bigger, faster, stronger than us, and how that gave them new expectations for this season."
"I have spent a lot of time in the weight room with Noah Roper and I have never once seen anybody work harder."
---
The offense trots back out for their second drive of the night. And their third, and then their fourth. The numbers on the scoreboard rise with the numbers on Roper's stat sheet. In fact, the numbers on the scoreboard tend to keep Roper out of the game in the second half. Only Fort Morgan and Mead have been able to keep Roper on the field in the second halves of competitive games. The rest of the year, Erie's spectacular offense has put up points fast – and their dominating defense has shut down and out most opponents, with the starters only giving up 55 points through ten games.
---
As Erie's regular season winds down, and the team looks towards the playoffs, they are also keeping an eye on something else; where Noah Roper will go to school next year.
Unfortunately for Erie, the fact that he mostly played on special teams his freshman year does not buy him an extra year of eligibility. And, with his 4.1 GPA, it isn't like he is going to fail, not graduate and sneak into uniform next year.
Fans and opponents would notice pretty quickly.
Roper currently holds offers from Division 2 schools Colorado State University-Pueblo, where Erie alums Cameron Marcucci and Luke Conilogue currently are, Colorado School of Mines and the University of Mary. Roper also has offers from NAIA McPherson, FCS Northern Colorado, and his only current Division 1 (FBS) offer is from the Air Force Academy.
Roper has also taken multiple visits to the University of Colorado-Boulder, Colorado State University, and the University of Wyoming, all of which are schools he would like to attend, despite not yet getting offers from them.
Despite top level college coaches & schools hesitating, or just waiting to make offers to Roper, there are people outside of Erie High School who have bought into Roper's hype.
BoCoPreps, which provides some of the best high school athletic coverage from local newspapers in the state of Colorado, has given Roper significant and well-earned coverage.
Vista Peak's Head Coach, who has had multiple teams go up against Roper, said "He is a STUD and such a humble young man!!!! He is going to be a steal for whoever gets him for the next 4 years."
Former Colorado Buffalo star Matt McChesney has praised Roper on multiple occasions , telling college coaches to "Recruit Him or Play (Against) Him."
Despite this attention, and more still coming, Roper still lacks a signature Division 1 or Power 5 offer.
What will get him that?
We will find out soon enough.
Hall of Fame coach Tony Dungy said that he would rather have a player who produced better tape than a player with better measurables. This is how Tampa Bay ended up with Mike Alstott, who starred for the Buccaneers for years.
And this is probably how some lucky college will end up with Noah Roper.
---
Besides chasing a top-tier Division 1 offer, Roper is after something else – the record books. He is within striking distance of several major career rushing, touchdown, and yardage records. And while some of those and some lofty single season records seem farther away than reachable, it all gives way to the ultimate goal.
A state championship. A ring. The goal that Erie has been chasing since their loss to Palmer Ridge almost a year ago. It matters more than any individual record ever could.
"It's just more of an unselfish thing, to have the goal be a state title… If I get a record, it's not going to (have) everyone's name on it" says Roper. "I'd love to get all the records but that's not how it goes all the time, and that's fine. It's more important for the team to get something that includes them all."
---
When Noah was a sophomore, one call became more common than any other over the PA System at Tiger Stadium. "And it is Noah Roper, for an Erie Tiger FIRST DOWN!"
Mr. Stecina, the PA Announcer, said "Once you start to say something the same way, you keep saying it the same way… settling on the same thing. That's what happened (with the call)." 
"Hearing the call (from the announcer) when… my brothers played, and the crowd would get all excited, THAT was awesome," says Roper. "It definitely means a lot to me."
---
When you think of Noah, the first thing you probably think of is a football player. And you would not be alone.
But to those who know him best, Noah Roper is not just a football player.
"He's a great kid, man. He's always had his head on straight and is headed in the right direction." – Ruben Portillo
"Relentless, persistent, and unstoppable… and Noah is incredibly loyal." – Coach Higgins.
"Noah as a football player does not even compare to him as a person. He is one of the most kind, hard working people I have met." – Coach Cooper
"He just outworks everyone" – Jayme Nelms
To you, Noah Roper might just be the player you see playing under the Friday Night Lights.
But to his friends, family and coaches, he is much more than that.
He is a brother, a cousin, a son, a friend.
Oh, and a football player too.
---
When Noah takes the field in the final playoff games of his high school career, it will be EVERY Noah Roper – the brother, the cousin, the son, the friend, the football player – on the field.
And regardless of what happens, regardless of whether or not Erie wins, one thing is certain.
Noah Roper will run for another Erie Tiger First Down.