Hannah Schmalstich: Shining a Spotlight on a Star in the Theatre and Choir Departments
Erie High School has many different departments and programs that appeal to students with all different hobbies and interests. From the arts, to STEM, sports, music, and many more, the abundance of programs at Erie High School makes it a place for anyone to fit in and find some place they belong. Two of the largest programs at Erie High School are the theatre and choir departments. Both have many students and faculty members that make them the programs that we know and love. One that stands out is Hannah Schmalstich. 
Schmalstich has been involved in theatre and choir since she was a freshman. She has been interested in the arts since she was younger and joined choir in elementary and middle school. Elementary and middle school choir did not consist of much; the few winter and spring concerts would be the extent of her experience prior to high school. It was the summer before her freshman year that she started participating in productions in Erie High's theatre department. Since then she has been in many more productions as either cast or crew,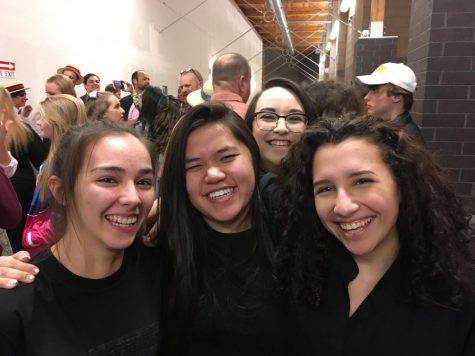 "I have been in all the mainstage shows, except for Peter and the Starcatcher. I was part of Alice in Wonderland, Nunsense, The Music Man, One Acts (9th grade), Charlie Brown, Blood Brothers, Rock of Ages, One Acts (10th grade), Miracle Worker, Fiddler on the Roof, One Acts (11th grade), and then One Acts again this year (12th grade)." Besides her consistent participation in the theatre department, she has also been involved in different choirs at Erie, including Topaz and CR5.
Schmalstich is not just a common face in the P-wing, she has leadership positions in both the theatre and choir departments. She is the current President of the theatre department and is the Marketing Chair of the choir department this year and in years past. These roles require her to work with her peers and participate in many activities. Some of these activities include making choir leadership council binders, advertising the choir department, organizing get-togethers, working on outreach and doing ticket exchanges with other schools, and making both of these programs a safe, welcoming place to be for both incoming students and ones that have been involved previously.
For many people, high school passes with the blink of an eye. When thinking about it, those four years can bring many changes to the students, staff, and communities that are held within the school. Since Schmalstich started high school in 2017, there have been multiple changes to both the theatre and choir programs. One of the more obvious changes would be the change in who the reigning choir teacher is and the students who cycle through the department, as some graduate and others enter high school. One big change in the choir department has been the considerable growth in popularity and size. "My freshman year, we were able to do our pre-concert rituals, which is sitting in a big circle, in the choir room. Now we have had to move all the way to the lyceum because we barely fit in a full circle." 
Schmalstich feels that the overall function of both the theatre and choir departments has remained the same since her freshman year, yet the dynamic and some minor details have been changed. In the theatre department, simple things like small rules and restrictions have been modified. "During tech week for The Music Man, for dinner, tech was not allowed to eat with the cast. It was very weird to have that separation. The next year, we must have complained so much that we all ate dinner together. We have been doing it that way ever since, for every show, not just the musical, which I really appreciate." 
Scott Wright, the drama teacher at Erie High School, mentions how during Schmalstich's time in the theatre department, she has added some of her own ideas to what is now a part of every show, "She is a go-getter 100%. The role of production manager/house manager was her idea. These are positions that actually exist in the theatre world, but we did not have them here. She came to me saying, 'Hey, I am thinking of this, how would it be if we tried to implement something like this?' she has always been implementing new changes."
Wright always found Schmalstich to be someone who had drive and was going to become an important part of the theatre community, "I knew that she was going to be someone that was going to be heavily involved and that I would want [to be] heavily involved."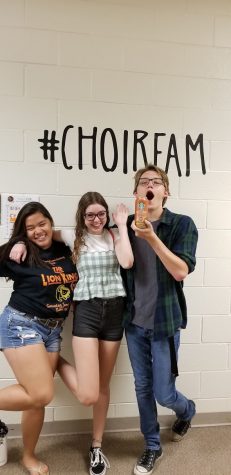 Sophomore Anna Mier found her to be inclusive of everyone, "She is super nice. A lot of people in high school, especially upperclassmen, are not terribly friendly to the underclassmen, and she is not like that at all, which I like," says Mier, "There are a few people who would willingly talk to the freshmen, and she was one of them."
Mier also mentions how Schmalstich was always someone to be positive and inclusive, even at something as simple as auditions, "When I auditioned for Fiddler last year, she was the person that signed you in and made sure that you were there and on time. She was smiling and saying 'good luck!' and 'I hope you do well!' That was my first experience with the theatre department and she definitely left me with a happy, warm, welcoming vibe." 
For Schmalstich, choir and theatre are both things that she hopes to continue doing in college. "In college, there are so many more opportunities that I want to take advantage of like 50 million a capella choirs and a whole range of productions from big mainstage musicals like we do here to like black box or to Shakespeare." Despite the fact that she hopes to major in things like astronomy or philosophy, she hopes that her non-arts related major will not prevent her from reaching out and participating in theatre and choir during her free time. 
So many people are often forgotten or become irrelevant in their high school once they graduate. Even with this in mind, many people often leave behind a legacy and feel they have made a difference in the things they were a part of, which is what Schmalstich hopes to do. "I have always wanted to leave a legacy of equality and community, as broad as that may be. I am really happy with what my class and I have been able to do, and I just want to continue that idea that you have a family here, and while we do butt heads a lot and we get stressed, this is a place to find people that you know have the same passion as you. You get to express yourself and make this beautiful thing with people that you know share your interests. I want to keep accepting that inclusive community, regardless of what you do in theatre, where you come from or where you want to go."
Wright says if he were to describe Schmalstich in one word, it would be "tenacious," which means to keep a firm hold of something, clinging, and adhering closely, "She has a drive behind her, and she will stick with things until they are done."
Schmalstich has impacted both the theatre and choir departments in many ways. Of all the people to go through these two departments, she will definitely be a person that many will hear about and know of multiple years from now. She has made a lasting impact here and has changed many things for the better. "Sometimes, I think theatre kids love what they do because they love the world around them. Where else do you get to explore different worlds and different people while learning a little bit more about yourself in the process? Of course we do theatre because we love it, but I'd like to think that every one of us gravitated towards the stage because somewhere in our lives, we decided empathy is more important than fame."