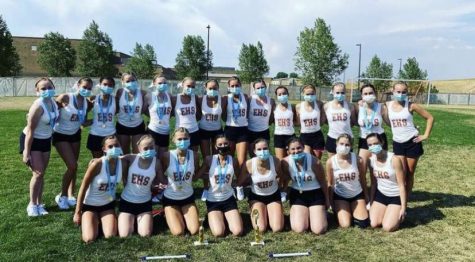 This year, the world has become more familiar than ever with cancellations, postponed events, strictly online meetings, and masks. The beginning of online school in August, new safety guidelines, and an increasing number of COVID-19 cases has been hard on everybody. The impact is especially challenging to sports teams and athletes, including those who cheer them on while also handling their own competitions. Erie High School's Poms Team is doing their best to overcome challenges while keeping a positive mindset despite a demanding array of virus related issues.
Freshman student Noella Wong is navigating her first year on the team with an open mind. She decided to try out for the team when COVID-19 was beginning to spread to the United States, saying, "Going into this year, I assumed it would be different from every other year. I also have not been on the team before, so I did not know what to expect going into it in the first place, but I expected there to be a lot of cancellations."
Wong claims, "The increasing number of cases has already affected the team since our practices have been transferred to Zoom at the moment, and many more precautions are being taken to ensure that the coaches and all the girls are safe, and so that we are keeping other people safe."
She is balancing feelings of gratitude towards being on the team for the first time and feelings of sympathy towards her teammates with more experience. She explains, "Having the idea that I did, this year has been amazing for me, but it definitely looks different than other years the other girls have experienced. All of our competitions have been postponed, football season was shortened as well, as the rest of the sports season. On top of that, there were a lot of changes, such as wearing masks during practices."
Despite lacking a past on the team to compare the current circumstances to, Wong and her team remain optimistic. She says, "I still get to do what I love, and we all get to dance together. Not only dancing, but we are still bonding as a team and do many fun things we could do in a year unaffected by COVID-19, like going to camp earlier this year and performing at a few football games." She estimates stricter safety precautions and more limitations in the future, but is also confident in expecting a fulfilling year ahead. "I think that even though this year looks different, it has not made the experience any less worth it because I am still able to be a part of an amazing and talented team."
Sophomore Sallie Shaninian, who has had a total of two years on the team, offers a similar perspective. She says COVID-19 has resulted in big changes during the entire duration of the year. "Tryouts were pushed back really late, and instead of going through the whole three-day process, we only had one day where everybody went. We had to learn our routines online and everything." Shaninian agrees that the coaches and team have handled the challenges well, but it has still been hard on the team, and all athletes in general. "We have had so many things canceled, we were not able to perform our dance for a game after a [recent] COVID-19 outbreak, and the whole team had to quarantine. It was really hard for us because we had been preparing for that for a long time."
Lately, practices have only been occurring virtually due to safety concerns, meaning there is less engagement between teammates and their coaches. The team was able to perform at a number of games smaller than usual. Shahinian says, "At games, there are barely any spectators, and we have to stay six feet apart during dances. It is kind of hard to stay in time with everyone and to know what is happening when you are so far apart. It is also hard not having your family there to watch you."
Shahinian was reportedly "overwhelmed at first knowing that everything would be online, for dance and for school," and says students who are not athletes may not fully understand the impact. "We were supposed to have two dances we were going to compete with and the varsity team had three dances they were supposed to compete with, but we had to cut them down. So now we are only competing in one category. Our varsity team was also supposed to go to nationals, but now they are going to have to do it online."
"We have to wear masks at practices, our season got pushed back a few months, and we do not even know if we are going to have competitions in person." Like the rest of her teammates, Shahinian is also confident that they will continue going strong and do what they can to the best of their ability, while also hoping circumstances will return to normal as soon as possible.
Varsity's Team Captain and senior student Jojo Wright says COVID-19 has been "the biggest setback" the team has seen so far and has had a greater effect than the only other major alteration she has experienced. "Last year, I tore my Achilles, so the team had to completely change the dance for our competitions. That was definitely a roadblock."
Wright says, "I think we have been very fortunate this year with COVID-19 because we are still able to have practices, even if they are over zoom calls. I am very grateful for that." She continues, "…but I [also] think we have experienced some of our biggest setbacks this year, like our competitions being pushed back and not being able to practice in person. We have had to adjust to all of the changes so quickly, I feel like every week there is something new going on."
Wright fully trusts her team and coaches to keep adapting well, considering all they have accomplished despite testing conditions so far. "We have all definitely been putting in work outside of poms, and it has really helped us to grow. Even though we have had some problems and news that has not been the best, we have also been able to grow from the challenges." Her optimism and gratitude towards what the poms have been able to achieve has helped the team's effort to "look on the positive side of things." Wright explains, "We have been able to make the most of it. We are so happy we got to have a football season and to cheer on the football team. Even though we might not be able to be in person right now, we are hoping to still have a competition season and have a date for the state competition."
She also says the parents and students supporting the poms have reinforced morale. "The students kind of made a student section out of the hill behind the school" at a recent game, and so she says, "we had a much bigger crowd for the last few games." She appreciates the parents attending games to see their children participating in either football or cheer at the beginning of the year. "It was good to have all of that support from everyone."
Wright shows sympathy towards her newer and younger teammates, saying, "If this is your first year on the poms team or even your second year, it is really hard to adjust to the challenges." She hopes for a somewhat standard few years ahead of them, with "Competitions with a regular crowd, a student section at football games, and all of that. And [I hope] for them to go to nationals because that is my favorite memory with the poms team."
Unfortunately, much of what happens due to COVID-19 is out of the control of the people who are being most affected. Whether they are athletes or not, students, parents, and teachers are full of hope for regularity to return in the near future. The most Erie's Poms Team can do now is stay positive, show gratitude, and try their best to pursue.