Taking a Bite Out of Hunger
National Honor Society hosts a Thanksgiving Food Drive for the Erie Community
Homes across Erie are venturing far into their pantries and scouting for canned goods to help the National Honor Society (NHS) Food Drive from November 6th to 16th.
This is the second annual Food Drive, which was started by the current Co-President of NHS, Michael Warner. His idea started with members of NHS traveling around the community and passing out flyers that give out information about the Food Drive, such as dates and what food is acceptable to donate. Families leave their food on the porch so, a few days later, NHS can pick them up and give them to the Erie Food Bank.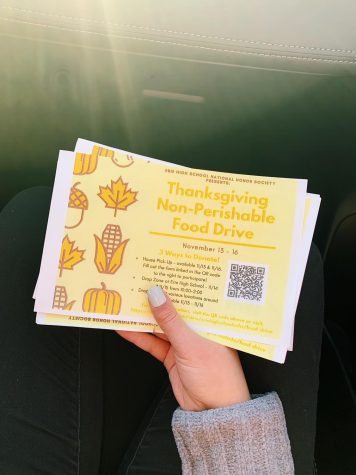 "The food drive is instrumental in giving back to the community and helping those in need," Warner points out, "last year, we collected seven carloads of donations and we hope to receive even more this year."
NHS Senior Officers, Mia Weber and Claire Watson, have made it their mission to be the leaders of this year's Food Drive. Their committee is in charge of the event, but everyone in NHS will participate. Each member will volunteer by either marketing the drive or collecting donations. 
"The really cool thing is that the food drive requires the efforts of everyone in the organization," Weber explains, "this is an opportunity available to everyone in NHS."
The recent pandemic has been a cause for consideration for new and safe ways to collect food donations. All members of NHS are now required to use gloves, masks, and hand sanitizer when handling the food. All donations will also be quarantined for 48 hours after collection.
National Honor Society Advisor, Greta von Bernuth, admits, "the food drive committee leaders have come up with an amazingly detailed plan, which included all the distancing and care needed."
Along with new safety precautions, Weber and Watson have implemented two brand new elements to the drive: drop boxes and drop zones. Drop boxes will be placed around Erie and offer families the ability to donate food from stores and restaurants. These places include King Soopers, Azteca, The Old Mine, Fitness 1440, and more. People will be able to prioritize donating and visit local businesses while doing so. The second new element, drop zones, are events where donors can drop off food donations in the EHS parking lot, from November 13th to 16th. This way, they will not have to set donations out onto their porch and wait for pickup.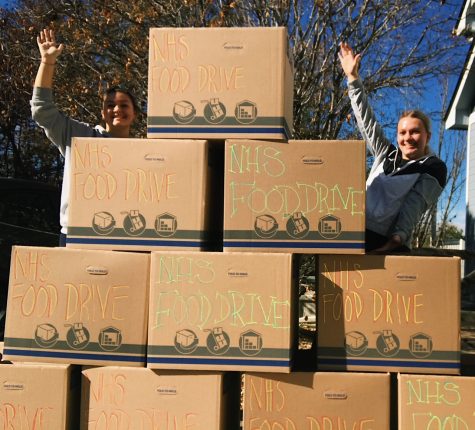 "We hope that the introduction of these two aspects will increase donations and excitement for the event," Weber confesses. 
The goal for NHS is to have an impact on the immediate Erie community. They hope to make a difference, even in the midst of COVID-19. Donating canned goods is a simple and easy way to give back to society. One donation can make a world of difference for someone less fortunate.