To Go or Not To Go: Online Edition
The 2020 online school year has presented new challenges for many Erie High School students. While the parents have gotten into heated debates on Facebook about their own opinions, what do the students think about this issue?
Yes, It Is Time to Go Back
Due to the online learning environment this semester, Erie High School students have not been able to see their peers or teachers. This new schedule that students have endured, includes sitting at a computer screen for multiple hours every day. 
"A really big part of school is being with your friends and enjoying it," explained senior Olivia Ice, "Right now it is just school all the time and no friends."
As interactions have decreased among students, the feeling of being alone has allowed students' mental health to take a toll. Without face to face learning, many students that are visual and hands-on learners have been negatively affected.
"I am a visual learner which has been harder with online learning," commented Ice, "For me, visual learning is being able to look at the teacher when they are talking, but now I can not really see their faces."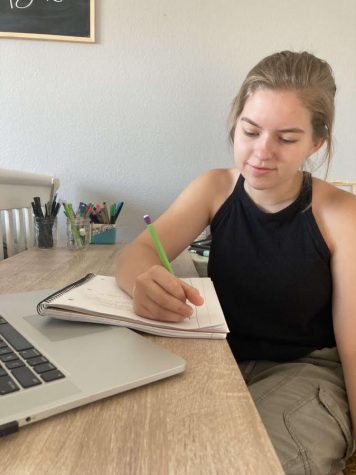 Not only are students missing out on visual learning experiences, many of the courses through the Career Development Center and the Innovation Center were canceled for this semester.

"I had signed up for a lot of Innovation Center classes this semester which are hands-on." mention Jamis Schriner, a senior, "Due to online school I ended up dropping those courses since I can not do them online."
A compromise such as the hybrid model would allow students the opportunity to learn both in-person and online. With the addition of social distancing practices, students would be able to experience the benefits of in-person learning while being safe. 
Macey Larson, junior, describes her thoughts on the hybrid model, "Even though most of my friends are in a different group with the hybrid model, it is a good opportunity to meet new people and enjoy the social interactions high school provides." 
The hybrid model is an opportunity that could allow students to get away from screens for half of the week, giving them the ability to ask questions in class without the pressure of being in front of the whole class. 
"I like in person better because I can get the feel of the room and then ask the questions," mentioned Ice, "On Webex, it is a lot more awkward and generally don't ask them."
Other schools such as Prospect Ridge Academy and Holy Family have been in-person full-time with no COVID outbreaks these past five weeks.
"My dad is a principal at a school that has been implementing the hybrid model since the beginning of the year and there haven't been any known COVID cases." Schriner discussed. 
"Even if we have to go back to online school it is still worth the try," stated Ice.
For a high school student, school is much more than learning concepts. It is about being in a supportive environment with peers and classmates. Each student deserves a chance to be a part of this environment, which should be available if done so safely. The ability to learn in-person is much more valuable than learning online.
No, It is Too Soon to Go Back
Erie High School students have been using online platforms to participate in school since the beginning of the semester because of the COVID-19 pandemic. Sitting in front of the computer while in Webex meetings has become the daily routine for the last month. 
"I can look at examples all over the country of universities and high schools being shut down because they did not do the hybrid model right," explained senior Michael Warner, "I do not think it is currently worth the risk to go back to school."
Online school has become beneficial for students as there is more opportunity for one-on-one time as well as interaction with other students during class. 
"I actually feel like I am learning more than I would in person for the reason that teachers want to have one on one chats with you," commented sophomore Aidan Baldzicki, "This is something you can not really do in person because you have to get to your next class."
Students have been able to use other devices to text a friend and ask a question for clarification during class, gripping a better understanding of the content while not distracting other students. 
As Baldzicki explained, "Even though I miss seeing my friends every day, I get to see them through the screen." 
The teachers have been taking great measures to ensure that their class is still productive in the same ways as in-person school. Assignments, projects, tests, and discussions are still continuing as they would normally.
Webex has created breakout rooms that allow students to meet in groups. "I like breakout rooms. They are fun, it is nice for CR 5 when we can do breakout rooms for sectionals which makes a big difference for us."
With the implementation of this new way of learning, many students have missed out on extracurricular opportunities or experiences they would have been able to enjoy otherwise.
"It is my senior year and I would love to go back to school," elaborated Warner, "[B]ut deep down, I think the right decision is to stay online."
However, many clubs have been able to get creative and meet on Zoom or Webex to continue the plans for this year. 
Students see that online school may be a change, but a good one. With no worries of getting their loved ones sick, they are able to continue their learning. Even with the missed experiences that come with online learning, the school has been able to adapt. The students recognize that safety always comes first.
About the Contributors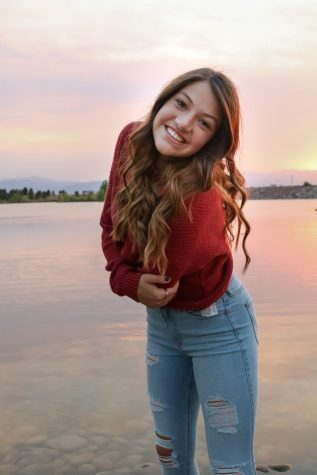 Madison Hays, Editor-in-Chief
Madison Hays is a senior at Erie High School and is in her third year of being a part of the Erie Tiger Times. Through the 2020-2021 year, she will be...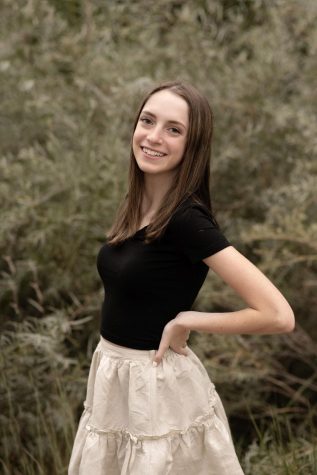 Hannah Goldman, Co Editor-in-Chief
Hannah is a senior at Erie High School. This is her third year writing for Tiger Times. In school, she is a part of Sources of Strength, Teens with Wings,...