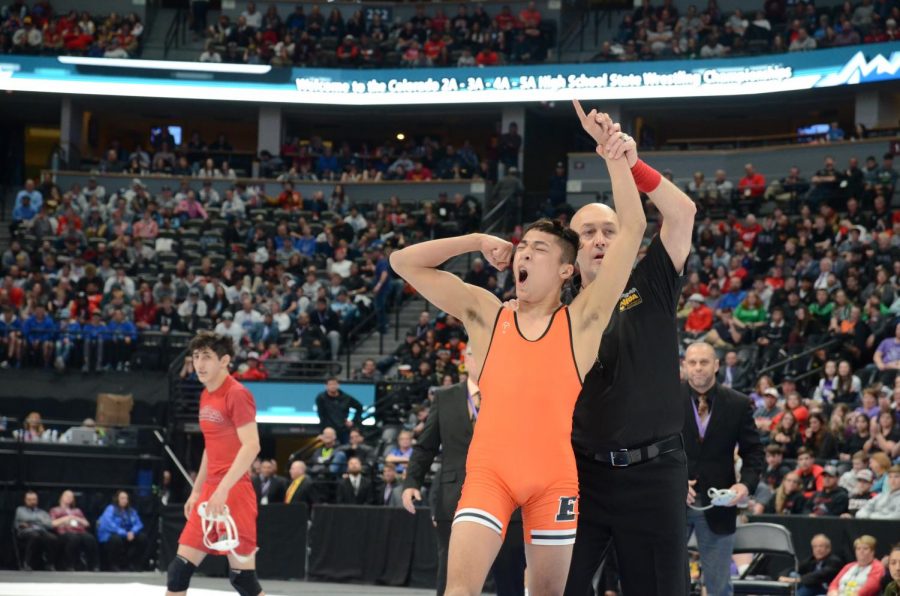 DENVER – Three days of wrestling came to a head Saturday at the Pepsi Center. Saturday, the State tournament saw Gus Fonseca-Walker, Noah Lopez, and Rudy Lopez take the mat, unsure of what was to come next. 
The morning began with the matches in the 3rd round of consolation. Noah Lopez was up first, where he wrestled against L.J. Herburger (Pueblo East). Lopez won by decision 8-5 and guaranteed his spot on the podium. In the next round, he faced John Kenney of Windsor, and after a snap went bad, he lost by fall at 1:53. This loss put him in the 5th place match. 
Saturday's first session also featured Gus Fonseca-Walker. He faced Luke Pleasent of Central Grand Junction in the 3rd round consolation. While this match would be the last of his season, as only a junior, Fonseca-Walker has high hopes for next year. "Hopefully next year I'll be able to cry in their arms next year after I win a state title," he says after talking about his bond with the coaches.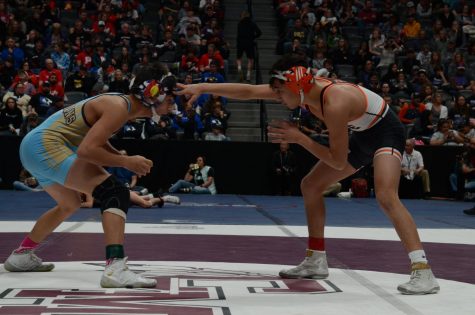 The last match of the morning session saw Noah Lopez take on Abel Dominguez Jr. of Greeley West for 5th place. "I'm feeling accomplished. I reached my goal to place in state." Lopez says after coming off of the mat. "There's only three guys in my bracket that get to end the season off with a win." and today, he got to be one of them. As only a sophomore, Noah Lopez will be a name Erie Wrestling hears again.
After these placing matches, the Pepsi Center was cleared and reset for the finals matches later that evening. The arena went from 10 mats, to a mere 4, and many more fans, teammates, and journalists showed up to find out who would take the state title this year. 
"I was a little nervous going into it because I've never been in an arena this big and this packed, but I knew I could do it because I believed in my training." Rudy Lopez says. He had one match between the Parade of Champions and his debut as a state finalist. Lopez was down 2-0 going into the second period, but scored a takedown seconds into the period. The score remained tied 2-2 through the second and third periods.
"There's no reason why I shouldn't win." Lopez said about heading into overtime. "I just had to dig deep and it was very important for me to do that." Neither wrestler was able to score in the one-minute period, or escape in the 30-second periods. The match was headed into the fourth overtime. "All I was thinking was I gotta get out right now." Lopez says. He began this period on the bottom, with Coach Joe Ferrera telling him, "If you escape, you win."
Lopez fought on bottom, and eventually rolled out of a small opening. "It was so real when I got out, it was the best." Lopez says. The referees called the match and Lopez jumped and yelled in joy. "All the sacrifices I've made to make this thing reality is unbelievable and I'm extremely blessed," he says, "It's so unreal, it's still unreal right now. All the hard work has paid off."
Erie Wrestling has not seen the end of these five boys. Michael Brazeau, Gavin Malek, and Noah Lopez are all sophomores, and hope to make another appearance at next year's state competition. Both Gus Fonseca-Walker and Rudy Lopez are juniors, and expect to take the mat for their senior season. 
Here's a complete list of the 4A State Wrestling Champions:
106 – Kobi Johnson (Loveland)
113 – Rudy Lopez (Erie)
120 – Weston Dalton (Pueblo East)
126 – Angel Flores (Coronado)
132 – Dominick Serrano (Windsor)
138 – Vance Vombaur (Windsor)
145 – Darren Green (Broomfield)
152 – Isaias Estrada (Thomas Jefferson)
160 – Cody Eaton (Windsor)
170 – Tristan Perez (Windsor)
182 – Isaiah Salazar (Windsor)
195 – Miles Beam (Roosevelt)
220 – Jared Volcic (Mesa Ridge)
285 – Andy Garcia (Pueblo East)