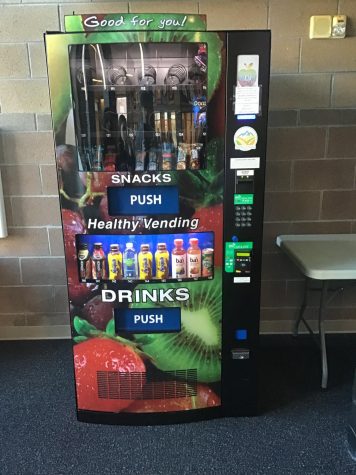 The crumbling sounds of wrappers has returned to the hallways with the new arrival of a vending machine that was installed shortly following winter break. 
Many kids at Erie High School would complain first semester about not having food in any of the vending machines. However, the new vending machine that Erie received has a large variety of options of foods and drinks that has students and staff very excited. 
"I think the new vending machine is a great option for kids to get snacks during passing period, after school, or during lunch." explains athletic secretary Mrs. Stanesa.
"Last year we use(d) to be able to get snacks like goldfish or granola bars during classes. But first semester we only had the option (to) get drinks" says sophomore Charlie Fernandes.
The new vending machine was brought to Erie as a gift from the school districts nutrition services during winter break this school year. The school took out all of the old food vending machines because they were broke and kids were losing their money. The kitchen ladies took over selling snacks but there were really long lines during lunch. The new vending machine gives kids more ways to get snacks. 
"I feel it improves overall morale in the school because it gives people nutritious and healthy snacks to enjoy throughout the day." says Liam McLaughlin, a junior at Erie High School. 
The new vending machine is located next to the junior-senior langue. It sells drinks like body armor, chocolate milk, water, and bai. It has a large variety of health foods to choose from such as granola bars and peanuts. The vending machine is also affordable for high school students. Most of the drinks and foods are under three dollars. 
"I like to get myself a snack during the school day but I can't always go to the lunch room and wait in the longline. I love how we got the new vending machine because I can get snacks and block during the day and they are all affordable." says Sophomore Mary Jardine. 
Erie does provide three other vending machines around the school. There are two vending machines next to the S wing and the junior senior lounge. These two provide drinks like water and bubbly sparkling water. The last vending machine is by the T wing and it provides Gatorade with a large variety of flavors. 
There are more stacks to come with a second new vending machine coming in the upcoming months. Details on this vending machine have not yet been released.