EHS Softball Team Honored with Erie Tiger Day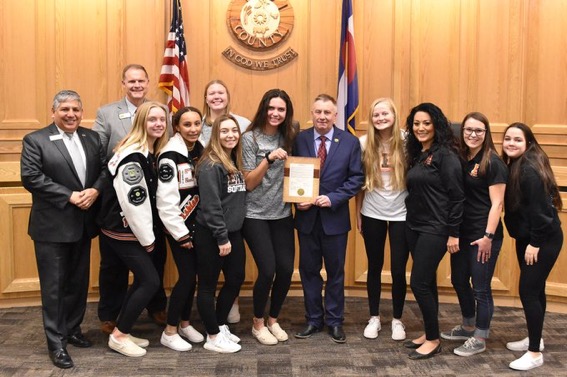 After winning the 12th state championship in school history, the softball team was honored with Erie Tigers Day in Weld County on January 20, 2020. 
"They honored the Erie softball team and the board of commissioners named today as Erie Tiger Day in Weld County," says senior Kat Sackett, one of the many talented players on the team. 
Not only was the team recognized as a whole, but each player was individually recognized for the hard work and amazing achievements of the 4A state champions. For some players this was especially appreciated.
"Winning a state championship was something I've dreamed about being apart of. So having a day named after our championship makes the 2019 tiger softball team apart of the legacy I have always dreamed of joining," Kat Sackett says about being recognized. 
"Being recognized for the thing we've dreamt of since we were freshman is the best feeling," remarks senior Megan Loveland on her favorite part of Erie Tigers Day.
Coach Vanessa Smith said some words for the board in regards to the past season and the legacy of the program. This is her first year coaching the team. 
"Coach V, along with our other assistant coaches, all emphasized the idea of playing for each other and not for ourselves," senior Loveland says about role model/softball Coach Vanessa Smith. 
The team's victory was all about strength in unity. Loveland says "The big thing about the way our coaching staff handled us was that they never gave up on any of us, whether we were on or off the field. We relied and supported each other and made softball more than just a sport." 
Although being honored is a happy moment, it is also a reminder that the team and specifically the seniors only have so many moments together. Representing the community and being together as a team has never been more important. 
"I've definitely got the best ending to my high school career and that's winning state and going out on top. Every moment I get to spend with the team I love the most is always something I cherish," says Loveland. 
Now it's time to celebrate, Happy Erie Tigers Day and congrats softball!