Adopting a Family for a Magical Christmas
The gift of giving this holiday season!
The holiday season is here and December has hit the calendars for 2019. With the holiday spirit being all about giving, Adopt a Family is back for another year! 
Teens with Wings (TWW) has worked hard to organize, fundraise, buy, and wrap gifts for one lucky family that is in need and lives in the Erie community. These gifts are then delivered in time for Christmas for this family!
Amy Norris, a junior at Erie High School (EHS) has participated in this event the last three years. "I love knowing that I can spread the holiday spirit and just by gathering pocket change students have." Norris explained. 
This year, TWW is excited to begin Adopt a Family, except this year, Sources of Strength (SOS) is hopping on the bandwagon and helping out! SOS and TWW are partnering up to give the family of five a joyful Christmas! 
Nisha Shrestha the student leader of TWW states, "Teens with Wings is a smaller group this year, and with the collaboration of Sources of Strength we can meet our yearly goal of fundraising around 100 dollars per family member." 
With both clubs excited and hopeful for another successful year, students can help out by getting rid of pocket change and finding a member from the club to give it to. The students participating will be wearing yellow envelopes that are created annually. As club members may be hard to track down, Julie Singh, the EHS librarian will be happy to collect any money. Money will start being collected on December 4th and the last day for collections will be December 18th.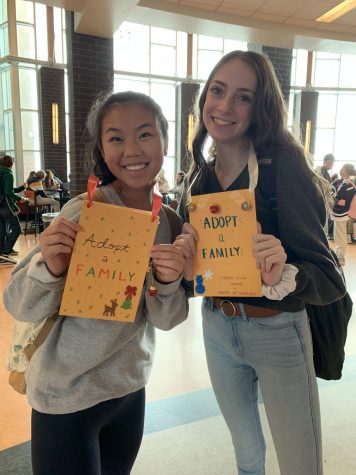 "I have always seen Teens With Wings members walking around with bells on the envelopes jingling with them. I am excited to participate and do something bigger than donating a couple dollars." Mindy Kennedy, a peer leader for SOS stated.
Every dollar, nickel, and dime donated goes towards one special family having a magical Christmas!