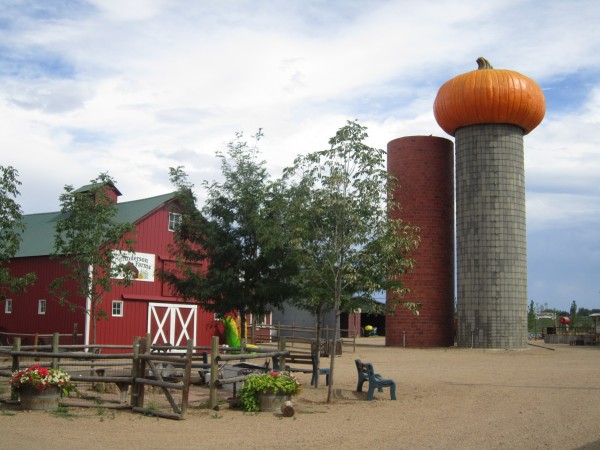 Anderson Farms is a beloved attraction featuring Terror in the Corn and Zombie Paintball Hunt, bringing unforgettable fear and excitement to children and adults everywhere. Anderson Farms is located at 6728 County Road 3 1/4, Erie, CO 80516. Their broad array of activities to endeavor during the day, and their mystical corn maze worthy of solivagant tendencies, and more spooky adventures: riding through the dark stalks, shooting at stumbling zombies with paintball guns, meandering through a terrifying town, filled with nightmares in the Terror in the Corn.
Michael Haren is a senior here at Erie, he also works at Anderson Farms he had a unique way of describing it, "I scare people."
He is one of the scarers for the haunted corn maze, "It's really fun, it's a good time, it's fun work."
According to Haren, half of the people have great reactions and like doing that sort of thing and the other half don't care for it much and get spooked pretty good, "The other half have a pretty good jump."
The costumes that the workers wear can be pretty elaborate but they can also be pretty simple, "The first year I was there I was a chair but this year I'm just like a scary pumpkin guy. Last year I was something else but yea it can get pretty elaborate."
Included with the costumes are a few accessories one such accessory is an axe. The weapons are of course fake. Anderson Farms doesn't allow real weapons for obvious reasons, but that doesn't stop the scare of being chased with one.Despite the scare factor people who go to Anderson Farms have a good time. Other than the haunted maze they have a few other attractions including, "The normal maze, zombie paintball, we have a new escape room, there's a smaller paintball shooting gallery, there's a kids section, and a food court."
There are more attractions than that at Anderson Farms but you'll have to go there to find out. Haren thinks that it's a real great place to go to, its real fun. And more people should go and have a good time.
Any activity is worthy, as they all lead to a night filled with memories, excitement, and hopefully, the company of those you favor most. The cynosure of Anderson Farms can only be known if experienced, and if someone in Erie has yet to go, it is highly recommended and beloved by all.
As the largest haunted house in Denver, The 13th Floor is a horrifying experience one does not want to miss out on. The story behind this experience is that it is the 13th Floor, usually kept out of hotels and company buildings because it is said to be egregious bad luck, causing fires, death, collapse, and other deviant disasters.
Around the usual Halloween season, The 13th floor becomes wildly popular, attracting crowds from all over Colorado. Clowns and witches, monsters and demons alike join together to make the 13th floor an unforgettably horrifying experience. Those who have made it through have surpassed a great feat. One of the scariest haunted houses, and not for those faint of heart, the 13th floor is perfect for the fall season, and an awesome endeavor to enact for any reason.
Whether you are one for a stroll in a moonlit corn maze, and the serenity that comes with such endeavors, or for a gasping, pounding heart, ready to burst, running from the monsters that haunt halloween times, you should know that fall is for everyone. The crisp apple cider, and smoky smell and taste of pumpkin, the crunch of colored leaves, and the everlasting chill creeping through the air, only warmed with sweaters and the comfort and love of friendship, along with the limitless activities available to experience, make fall one of the most lovely times of year.