Erie Football Gains Momentum with Win over Cañon City
CAÑON CITY- The Erie Tigers began to show some of their true stripes with some rising stars coming out of the shadows in a well-earned 35-7 win against Cañon City.
After a heartbreaking loss at Frederick (20-21) two weeks ago, Erie couldn't stick to the normal routine and had to change things up, both in terms of game plan and team spirit. "Prior to the loss, I don't think we were as enthusiastic as possible, and the weeks leading up to this game we just had so much more enthusiasm to get back on the field knowing that we had a good shot to win the game," said sophomore wide receiver Aiden Achtziger. 
Having a bye week in between the loss at Frederick and this week's game in Cañon City, at practice the team was able to make numerous leaps in their gameplay. Wide receiver Gus Fonseca-Walker even went as far to say that "it was just one of the best weeks of practice we've seen all year."
At game time, Cañon City won the coin toss and elected to receive the kickoff. Erie's fine-tuned defense stopped Cañon City and set up a 30-yard run by Jonah Vanlandingham, which left Erie at Cañon City's 1-yard line. Mason Veve finished it off with a run and scored the first touchdown of the night, and gave Erie a 7-0 lead.
The rest of the half was lackluster for both teams. The only big play came when Owen Masters was able to take an interception out of the end zone and return it for 55 yards, but Erie wasn't able to finish the drive for a touchdown. 
The second half is where the Erie Tigers started to gain traction on offense. Veve was given the reins again for Erie's first offensive play of the second half after a long Will Johns kick return and waltzed into the end zone for a 30-yard touchdown. 
Erie's JV players got some varsity field experience and were even able to put some points on the board while only sacrificing seven. Aiden Achtziger caught a 10-yard throw from quarterback Gavin Mendoza as one of his first plays on varsity. "I was hoping it was going to me, and I just ran the route and when I was wide open, [Mendoza] waited for the gap and then just threw a good ball" Achtziger explained.
But that was just one of the two throws Mendoza made to put six on the board. Shortly after, Mendoza threw a 22-yard pass to Dylan Hall for Erie's fourth touchdown of the night.
In the fourth quarter, Erie's anticipated goals of a shutout faded to the breeze when senior running back Raymond Cammel ran the ball 36 yards for Cañon City's first and only touchdown of the night.
Erie JV player Gus Fonseca-Walker solidified the win with a 44-yard run for a touchdown for the final score of 35-7. "It was insane. Coach Higgins gave me a chance to get into the game. I knew I was going to get at least 5 yards and I just saw an open field and I guess it worked out for me" Fonseca-Walker described.
Erie's JV players were able to make a name for themselves on the varsity field, and it will help solidify both teams going into the rest of the season and even future seasons. This year's starting kicker, Dominic D'Ottavio, got to see the benefits that joining the varsity teams has on elevating everyone's gameplay firsthand. "I've gotten to meet some of the upperclassmen, make a whole lot of friends with them and even get to know the coaches more, which kinda adds more people to my family and they help me become a better player along the way"
While Erie had a rocky start to the season, it is far from over. New faces are stepping under the lights and they aren't disappointing, but leaving a positive outlook for the future of Erie Tiger Football. Erie's skills will be tested once again next Thursday with less time to prepare and compete against undefeated #2 Mead, but this week's win against Cañon City proves that the Tigers are ready to fight until the end.
About the Writer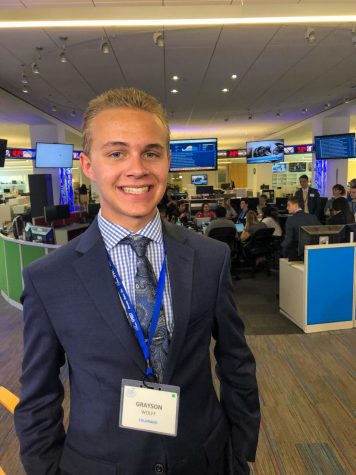 Grayson Wolff, News Director (ETN)
Grayson is a Senior at Erie High School and is the News Director for the electronic media division of Erie Tiger Media called the Erie Tiger Network. He...