Wendy's Pops Up on Highway 7!
Yet another fast food joint has opened in Erie in the recent months.
2 months ago, Wendy's opened on US Highway 7. Recently, Erie has seen growth in business along Highway 7. From King Soopers to Sonic and now a Wendy's, Highway 7 is seeing much larger franchises as the years go on. Why does this matter? Well, the students at Erie High School are starting to have better places to drive to during their precious 40-minute lunch break and make it back to the high school in a very reasonable time. No longer are the students at EHS are trapped to only going down I-25 to reach Chick-fil-A or to Highway 52 to get McDonald's.
We now have multiple options that appeal to most tastes of the high school fast food diet. Wendy's is a great addition to this regime of food that students can chow on. For the most part, the service at Wendy's is ready for the incoming storm of high schoolers during lunch. Staffing seems to be hitting a sweet spot, there are so many courteous employees that will deliver your food accurately and quickly. If you have never been to Wendy's, you are missing out. An essential is the Frosty, this is a very soft ice cream that pairs with fries like peanut butter and jelly. And at the low price of a dollar for a small, there is no excuse for not trying one.
Unlike Sonic, how you get to Wendy's is simple.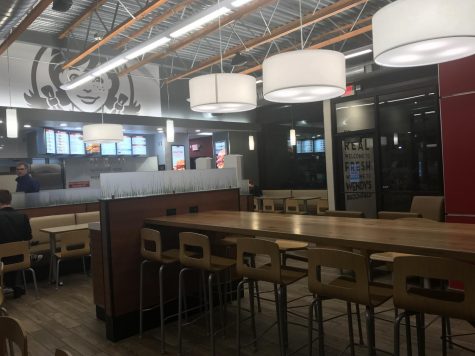 Go Eastbound on Highway 7,  turn right after the Murphy's gas station and you're there! Unlike most restaurants near the high school, they are all pretty limited in soda selection. Not at Wendy's! Wendy's has the new Coca Cola machine that allows you to customize what flavors you want in your soda! Overall, Wendy's is a much needed fast food restaurant for both the students of Erie but also the families of Erie not wanting to cook that dinner meal.