Bohemian Rhapsody Shows that Queen Reigns Supreme
Hang on for a minute...we're trying to find some more stories you might like.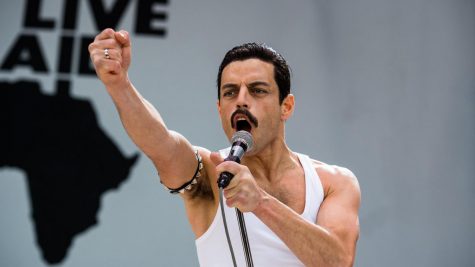 Following the exciting story of the rock band Queen, and the flamboyant life of their lead singer, the new movie Bohemian Rhapsody is an interesting and emotional narrative brought to life by Rami Malek's fantastic performance as Freddie Mercury.
The movie takes the audience along the origins of Queen, the conflicts and challenges that the members of the band faced, and the creation of their revolutionary sound. It also follows the rise of Freddie Mercury as a flamboyant rock star and his struggle with AIDS late in his career. Most of the film is spent building up to Queen's set at the Live Aid concert in 1985, which many consider to be the climax of Queen's run as a rock band.
Rami Malek's performance as Freddie Mercury is by far the most captivating element of this film. Malek emulates Mercury's eccentric nature perfectly, while also showing the audience the side of Mercury that many weren't aware of while he was a member of Queen. Malek captures Mercury's struggle with his sexuality, and the heartbreaking loneliness that Mercury experienced during his life.
There are times where the movie feels like a showcase of some of Queen's greatest hits and not a chronicle of the band's story, but the use of Queen's music to tell Queen's story feels more like fan service then anything else, and it doesn't interrupt the narrative very much.
Bohemian Rhapsody is a fun and extravagant outgoing that entertainingly portrays the creation and reign of Queen as one of the greatest rock bands of all time. There are many moments in the film that are tragically touching, especially towards the end of the movie as Freddie Mercury's internal struggle with his loneliness, his sexuality, and his battle with AIDS all become more serious at the end of his career. Bohemian Rhapsody does it's job as a tribute very well, and the biographical elements accurately tell the story of Queen.