Constructing a Brighter Future
Construction has commenced at Erie High School, building bigger and improved learning spaces for students.
For many students at Erie High School, it was sudden and surprising when fences went up, doors were blocked off, and digging began turning the brightly lit hallway into a dark and gloomy place, in order to make way for the new wing and lecture hall at the school.
But these construction ambitions did not start in the halls of Erie High School. This all began back in November of 2016, when a vote took place to approve a bond, which gave funding for many projects across the St. Vrain Valley School District. Matt Buchler, the principal at Erie High School, wanted to seal the deal to getting this passed by writing letters and holding signs, but added that "Our parents and community members in St. Vrain have been very supportive of the bonds that add to the size of our schools and refurbish the school's."
After the bond passed and the funding was allocated, next came the design  process which required a team to spearhead the newest addition to EHS. The design team was comprised of teachers, parents, students, administrators, district personnel, and engineers. The team was assembled in order to "Get input as to what is ultimately going to best serve our students," explained Scott Brungardt, a science teacher on the design team.
One of the main and most exciting parts of these additions is a lecture hall called the Lyceum. The Lyceum will be for "Larger classes like the AP and honors classes, which we may schedule in the Lyceum, and they will have more students in, and will look like what a college lecture hall would look like," explains Buchler, "We hope that it will help kids be better prepared for college," he continued.
The new wing will feature 16 new classrooms, with eight of them being state of the art science classrooms. Because of this, the importance of a science teacher being on the design team was significant. Brungardt mentioned that "Just as I wouldn't know really how to setup an art room, band room, athletic facility, or even a weight room other than just adult common sense, those nuances of those specific types of environments where students are learning, it is important that [the science team] had input so we could really direct what we know is best for students."
The improvements over the current science classrooms will be substantial, according to Brungardt, "Each and every room will be quite a bit bigger, in one confined four wall space we will have a lab that is separate from the 'classroom'… it is primarily new stuff, but the space is key."
Brungardt also mentioned that the standard equipment, such as whiteboards, sinks, gas,and electrical outlets will be included, but with additional ventilation hoods, which will be a benefit for Chemistry and AP Biology classes. "It really is just the lab arrangement, our current science labs are all crammed around the perimeter," Brungardt adds.
Brungardt explains that "The Lower-C wing will have islands around the perimeter that jut out like a peninsula would, and they will house four to six students at each island, and then the upper wing will have more of a parallel arrangement for chemistry and physics that will have 10 students per station."
Brungardt also puts emphasis on the importance of the flow of the rooms, explaining that "The physical ability for teachers to move around the lab and help students, it doesn't seem like much to a student, but if it takes me 10-15 seconds to get from point  A to point B because it is so crowded, and I do that 30 times a class period, that's a lot of seconds, ultimately it means I didn't get to help multiple students with the questions they had."
"Additionally, it will be safer. We have glassware, we have chemicals, and expensive items too that can be easily broken and it makes sense that if we are crowded in a certain space, we can't operate as safely," said Brungardt.
Finally, being less crowded will allow for better group work opportunities. Instead of having to split up in group tasks so individuals can spread out and work, they will be able to do the same thing but in a closer, more collaborative group.
But the little things can really make a difference too. In addition to everything else, there will be dedicated teacher work spaces and a new counseling space will be added. "Just like a student having more space, it is no different for us. It is absolutely essential that we have the room to set up labs for our students as well as be safe doing it. Right now one of the problems we have without the new wing is the fact that we share our rooms. While that is not fun for any teacher, it is especially challenging for the sciences, in that we have to do extra work to setup a lab. Having that bigger space we don't have to leave during plan time will make our jobs easier so we can do more"
Another little thing that makes a difference to Brungardt is that "[The science teachers] will be together, and that'll be huge, because right now we are in the Upper-C, Lower-C, and T wing, which makes collaboration between teachers more challenging, and this puts us all together."
The current science labs located on the T-wing and lower C-wing will be renovated and converted from two science classrooms that include a storage room in between to three regular classrooms. These classrooms will be similar to the current english, math and history rooms in size and function. It is to be noted that the Upper-C wing science rooms will be left, to accommodate for some larger classes and in the future could be used as science rooms again, if needed.
As for when all of this will be done, Buchler says that "If the construction stays on the current timeline, we will open the doors of the new wing, Lyceum, and counseling space in the fall of 2018, next school year."
Until then, it is to be wondered what the impact will be on students. We have already experienced the closing off of doors and the windows from the hallway that leads from the Jr/Sr lounge to the commons, and the anticipated construction traffic, but as Buchler mentions "The nice thing about this building project is nothing is really going on inside of the school. They are doing most of the work outside of the school so as far as construction projects go, the impacts are going to be minimal on students and on learning."
About the Contributor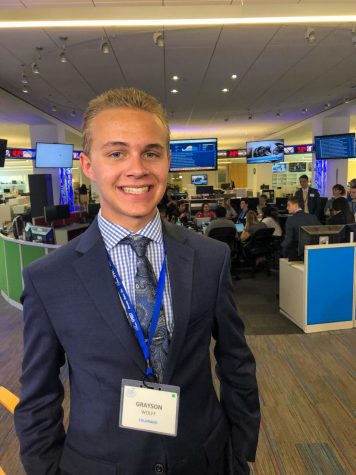 Grayson Wolff, News Director (ETN)
Grayson is a Senior at Erie High School and is the News Director for the electronic media division of Erie Tiger Media called the Erie Tiger Network. He...