Prepare for the Return of the Erie High Choir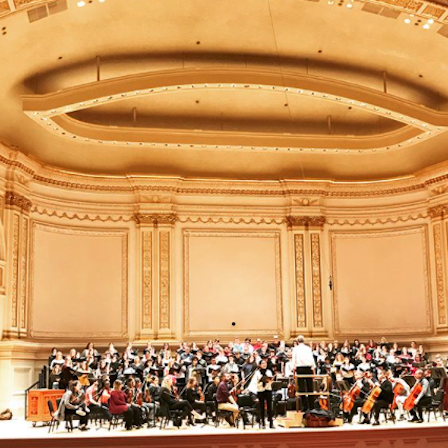 Following a triumphant year of standing ovations and high praise, the Erie High School Choir Department has officially returned and begun working hard for the upcoming 2018-19 school year. The enrollment at Erie High School has dramatically increased as well, and with greater numbers come more events and challenges.
The six choirs of the division will begin the year's first semester of performances with a tutti (meaning "all" or "together" in Italian) performance of the national anthem at Erie High's homecoming football game on Sept. 21. Less than two weeks later, on Oct. 2, the first full choir concert of the year will take place. Five choirs will be performing two or more pieces each, along with a closing tutti piece, "We Are the Voices" by Jim Papoulis. "This [piece] is slow and then it is fast, and there is a lot of excitement that builds up within it," tipped Janay Bird, the director of the choirs. "[The concert] is free, so everyone should come."
The Winter Concert is a night held close to both the audience and the choir students' hearts; falling on Dec. 17, this specific production will feature the choir alumni joining current students on stage at the end of the night for an annual tutti piece named "Christmastide," arranged by Donald Fraser. Every year, the Winter Concert continues to be among the most touching performances that Erie puts on; in Dec. 2017, the performance awarded the choirs with a standing ovation.
"We also have one of our biggest fundraisers, called 'Erie Idol,'" Bird added. Erie Idol is a competition between ten selected auditioners, where each will perform songs of their choice in the Erie High auditorium. The winner will have their name placed on a plaque that will be hung in the school, and receive a $50 prize. "Be listening to announcements at the end of the month about auditioning for that if you are interested!"
Colorado All-State Choir auditions are also to begin in early October for Juniors and Seniors; students will have the choice to audition for regular All-State Choir and/or All-State Jazz Choir. Those who are accepted will perform at the All-State Choir Showcase at the Buell Theater in Denver on Feb. 2, 2019, following two days of workshops and rehearsals with choral professionals. This is a big deal to the performers as well as their peers, who are all encouraged to attend the event. "After that, we have Honor Choir auditions and anybody in our choir department can audition," Bird explained. SVVSD Honor Choir is a district-wide event that will take place on Feb. 26, 2019. The event will last all day before a 7 p.m. grand performance from the admitted vocalists.
Other performances such as SVVSD's Fall Fest on Oct. 17, Men's Fest on Nov. 27, Erie Country Christmas on Dec. 7, and many more will make for a thrilling semester of accomplishment and high energy.