Kaitlyn Gentert: More Than Just a Social Studies Teacher
There's so much more to Ms. Gentert than meets the eye!

When thinking about the teacher, Kaitlyn Gentert, what do you think of? Social Studies, veganism, spiritualism, just to name a few. But do you know the real Kaitlyn Gentert?
She was born in Longmont, Colorado and lived in this state her whole life; growing up close to Berthoud, Colorado. Gentert is almost 32 years of age. She went to college for her undergraduate degree at Regis University from 2004 to 2008; following this, Gentert went to UNC from 2008 to 2010 for her teachings license and 2010-2012 for her masters. While attending these colleges, she was involved in softball, being her dream since she was a teenager.
But Gentert may not have been able to achieve these things without the help of her parents. She describes her parents as her "rock" and her family as being everything to her. "I am incredibly close to my parents who are my biggest fans, loudest cheerleaders, and are an amazing support system."
Throughout her whole life, Gentert, and her family have been very integrated with each other. Thus being they have been very supportive. "My family members all have various interests and ambitions so we are working on supporting one another as we continue to grow and evolve.  My parents just launched their own small business which has been incredible to be a part of."
Alongside her parents, she has a younger brother. Her whole family is very supportive of each other, making sure they are there for one another every step of the way. These qualities have attributed to a good childhood. Gentert describes it as, "playful, adventurous, hard work, and consisted of safe ways to push myself to become anyone and anything I wanted to become."
Gentert grew up in a small country town, west of Berthoud. In this town, it is obviously described as a wonderful place to be a child. "…we raced wagons down the street, played backyard wiffle ball, had sleepovers in our trampoline tent, and went trick-or-treating in hay-filled trailers." She spent her teenage years mostly spent on the softball field. She spent her time evolving herself as a softball player to fulfill her dream of playing softball in college.
Gentert has fallen in love with teaching, as many students have fallen in love with her personality and teachings. "My teaching style focuses on learning life through social st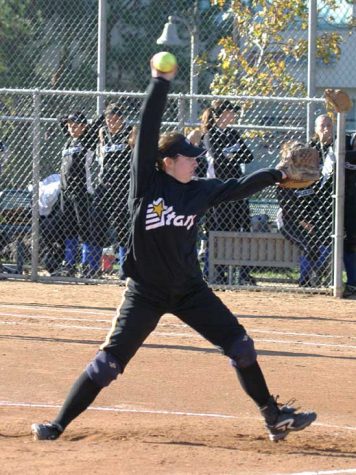 udies content. I try to make the content mean something to students and I try to connect with them so they develop trust and can push their intellectual boundaries."
She has been teaching for 8 years, teaching most of the same classes, all of which have been here at Erie. Those classes presently consist of AP Human Geography, AP Government and Politics, and AP Research. So when confronted with the question of teaching a different class, Gentert was quite conflicted. But, given the opportunity, she states several interesting concepts. She loves world history, she wouldn't want to change subjects if making another class. Gentert has talked about having a joint class. She says, "Mr. Fox and I have always talked about how it would be cool to teach an integrated class where you do a history with an English class."
Gentert thinks that mixing two different subjects and working with another teacher would be very interesting and fun. She has also mentioned combining AP Environmental Studies and AP Human Geography with Ms. Mitchell.
In addition to this, when addressed with the idea of college, she declined the idea. She says, "I never say never but being a college professor seems unlikely.  I love helping teenagers navigate through life."
Through the rumors around classmates, many people know about Gentert being a vegan. Her veganism incorporated into her life when she started as vegetarian eight years ago. After being vegetarian for five years, she became vegan.
Presently, to start her day, she has a green smoothie, usually with a banana, in the morning. She then has her main meal halfway through her day, she thinks her body digests food better on this schedule. She star

ts this meal with a green salad, then the main meal that may include a stir-fry with quinoa or a portobello mushroom. Throughout the day she will eat raw vegetables throughout the day which could include: carrots, bell peppers, and cucumbers. She is also very physically active, she uses foods like dates and apricots to "refuel". She loves to cook; but interestingly, she didn't enjoy cooking before becoming vegan.
Gentert does various things on her own time, but being a vegan has become a large part of her life, among several other things. She is very physically active, participation in different activities. Those activities include yoga, mao tai kickboxing, mountain biking, and trail running. Gentert has been very successful in kickboxing specifically, with more than halfway to a black belt.
She started kickboxing two years ago, stumbling upon a place that had kickboxing, having no idea it would evolve into a passion she holds close to her heart. She recently advanced to her first advanced belt. Gentert was intrigued by the people in the building describing them as, "crazy awesome." So she decided to try it. After she took a class, she felt empowered and thought it was a great workout.
After a couple months, a few of the people she has befriended in the kickboxing class told her to join a mao tai class. When hearing of this class her first impression was, "Wow, that's the dumbest thing you've ever said." But, she decided to give the class a try. Now, she is more than halfway to getting a black belt, which is her ultimate goal.
Another passion of hers is trail running. During the summer she would trail 20 to 40 miles every week. But with school now in session, her time on the trails has decreased dramatically. However, she has now promised to trail run on the weekends. Time is not an obstacle for Gentert when it comes to this. She makes sure that she runs at least 10 miles on the weekends. For this activity, she can be found on several trails in Lyons.
Through her life she has traveled abundantly, as shown in her classroom. She has been to 9 countries that include: Spain, Germany, England, France, Belgium, Italy, Greece, Netherland, and Peru. Of these places, she has described her favorite being, Greece, and Peru. She specifically liked seeing ancient Olympia, seeing where the Olympics started was very amazing for her. Through school classes, she takes an annual trip, taking several students to a different location. This means she has many opportunities to see the world.
Kaitlyn Gentert is an amazing human being, with many ambitions, and knowledge beyond her years. She is a role model, not only to her students but to her family.
"I am not the same person I was growing up nor am I the same person I was last year. I continue to change, evolve, learn and grow which my past taught me is okay and encouraged. I grew up with the notion that we are to never stop learning, growing and challenging ourselves."
About the Contributor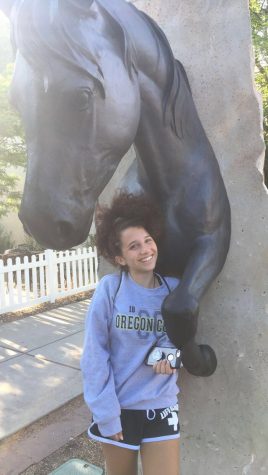 Celina Laslow, Staff Writer
Celina is a freshman at Erie. She is involved in the auditioned choir group, Topaz. She is also almost fluent in Sign Language.