The Impact of the Spring Pops Concert
To finish out the school year Thalia Burd and the choir program had their Pops concert, which took place on May tenth. This concert is different from other choir concerts because of the type of music that the choirs sing. 
According to choir director Thalia Burd, "[they] specifically call it the Pops concert because we focus on all pop or contemporary music, musical theater, jazz, rock, you name it. And these are songs that the students actually pick and vote upon, so that makes it unique."
This year's concert had music from The Beatles, Alicia Keys, Disney films, the musical Hamilton and many more, but one of Thalia Burd's favorites is a song that 5130 will be singing: "in every single choir you're gonna hear really cool unique music. Another favorite of mine is 5130's acapella version of Skyfall from [the] James Bond movie. So tons of variety. There's something there for everybody." 
Maddie Adams adds how one of her favorite songs that she's singing this year is, "You Make Me Feel So Young", she says, "it's very fun to sing. It's jazzy and we sing in a mixed formation, so we get to interact more with each other and we feed off each other's energy."
With that, the music at a pops concert might be familiar to choir members and audience members alike, and because of that, "it is more focused on music that the audience is really gonna recognize and connect with." 
With the Pops concert taking place in the spring, this most recent concert is only the second pops concert since covid, and since Thalia Burd took the helm of choir director. 
Burd explains how, "I think the students really, really love this concert and after each concert I have them do a concert review or reflection. And so many of them have said over their high school experience, one of their favorite memories was the Pops concert. So I think not having it made me realize how important it was. I'm so glad it's back for the second year in a row.
The pops concert is an annual tradition not only for the high school choir department, but also for the middle school. Senior and member of CR5 Maddie Adams expressed how her love for the pops concert began back in middle school: "this one year we did Disney's theme and I loved all those songs and I got to sing a solo in the Lion King song and it was very fun."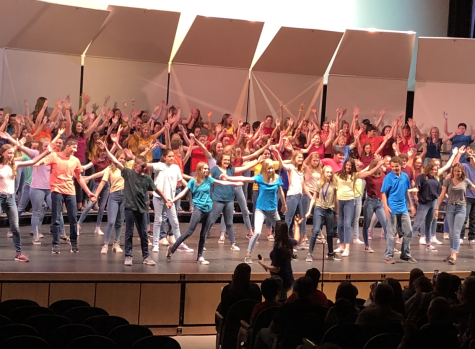 That middle school pops concert where Maddie Adams got to sing her solo happened in the Spring of 2019, which marked the last pops concert for both middle and high school choir programs before COVID-19 hit. 
Erie Middle School choir director Abigail Martinez talks about how, "That class was insanely loud, hilarious, and kind, and I'll always miss them," in regards to the eighth grade choir that year."  
Reflecting back upon that specific eighth grade class Martinez explains, "I was also nearly nine months pregnant with my son
, and my world was quickly changing, it felt like that eighth grade class really grew up with me as a new mom with a growing family."
Thalia Burd holds this specific event close to her heart considering it is so similar to her own high school experience in choir. 
She expresses, "I started my journey in the choir as more of a musical theater person. So I did a ton of musical theater, pop, jazz show choir was a really big thing in my high school. So dance moves, choreography, very much like glee, that was my high school experience."
Abigail Martinez also did a lot of pops music in high school, with her end of year concert looking not too dissimilar from here at Erie.
Martinez explains, "having an end-of-year Pops Concert was my high school's tradition, and it always feels like such a great celebration of hard work to end with music that is a little lighter and more familiar."
Being able to pass on this tradition was really special to Martinez, "we all love to share the traditions that we grew up with and see them continue through generations after us. The Pops Concert is just one more way that I can share something that was so important to my adolescence with my own students."
On a technical level, the pops concert offers an opportunity for choir students to explore different ranges and singing styles. 
Burd explores these in explaining, "the style of singing is different when you sing more contemporary or jazz or musical theater. So we talk about different tone placements. So if you wanna be a brighter tone versus that dark, open coral tone, sometimes that works better for the style of music. Sometimes adding breathiness in will work better fo
r jazz instead of like vibrato for classical sound." Although the pops concert lets choir students sing songs they already know, they can still grow as singers in regards to how they approach their performance according to these technical methods discussed above. After singing choral arrangements all year they get to challenge themselves with entirely different methods of singing.
Although singing pop music can be objectively different from choral music, choir students still can use the skills they develop throughout the year to put on a successful pops concert. 
Burd illustrates, "we want to have a lot of precision with rhythmic accuracy and note accuracy. But then again, just playing with those different tams or tone colors that you can access with the voice. And we wouldn't want to sing a musical theater, a pop song, like classical singers with vibrato and opera. But we still think about all the coral basics: are we blending and balancing in the sections and are we using beautiful dynamics and things like that. So it's mostly just changing our tone color ever so slightly through the pieces."
Another challenging element of this concert is the shortened time period that students have to prepare for their performance. Adams explains how the choirs have to work around this set back, "the amount of time that we usually have for pops con concerts are less than what we get for classical concerts, which means that sometimes our pieces can't be as evolved and as great as on some of our classical pieces. That being said, we do know the music more because it is pop, but I feel like just making sure that we can reach the same level of draw dropping with such a short amount of time."
Despite these challenges, the pops concert holds an immense amount of significance to the choir students. Adams details, "The pop concert means that like, it's the end of the year and it's like a celebration of all of our hard work in a way that we can sing something that we know and love instead of some like classical pieces." 
Adams adds how unique of an experience the pops concert is in regards to showcasing other choral skills. " it's a concert that showcases what you like to do besides coral pieces and it explores your range and what styles you can sing. It also is our last concert of the year and you'll never get to sing with all the same people again. So I think the Pops concert brings a lot of things to the table that should be cherished for everyone in choir every year."
Burd expressed a similar sentiment in that "there are always tears, there's always a lot of like realizations sinking in that this is the last time to sing with this exact group of people. And I think that makes it really special." 
Given that this concert is both an opportunity for students to sing their favorite songs and a celebration of the Seniors, it is associated with some positive and negative feelings from students. 
Adams explains " I think it will be bittersweet. I think saying goodbye to something that I've been doing for
 four years is gonna be a little difficult to do, but I think this is a way to celebrate those last four years."
Aside from the actual concert, the choir department has other traditions set aside for Seniors.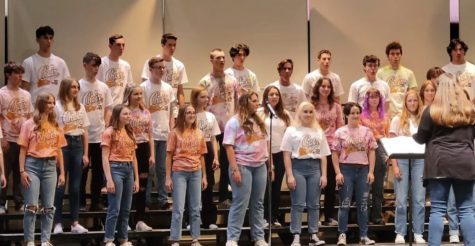 Thalia Burd details, "we have a special before concert ritual in the lyceum where the seniors talk about their time in choir and what's been impactful and leave advice for the underclassmen. So we're gonna hear from our last round of seniors during that tradition."
With the pops concert being a non traditional choir concert, singers get to wear casual clothing, and with that seniors get to tie-dye their choir shirts. Burd explains how "the seniors are going to stand out because theirs are going to be tie-dyed and they bond over that tie-dye experience and just stand out on stage."
In addition to that tradition, the pops concert also acts as an awards ceremony for the choir department in which members are recognized for their contributions. A part of this same awards ceremony is when Seniors receive their graduation chords for choir.
Adams explains how the significance of this being her final concert as a senior impacts not only her but also her family,  I think it's something that I've been involved in my whole life so far, and I think my mom has influenced this song passion for me and my dad has always been by my side for those situations, so I think they're going to take it as pretty bitter not being able to go to a choir concert where I'm in it again."
With that being s aid, the annual Pops concert is an impactful moment for seniors, teachers and audience members alike, and is a perfect end to a year's worth of music.