Making her Mark: The Girl Who Will be Impossible to Forget
Izzy Hageman is a popular name at Erie High School as she is the student body president and cheer captain. Apart from all her great achievements, what has made Hageman's high school experience so grand?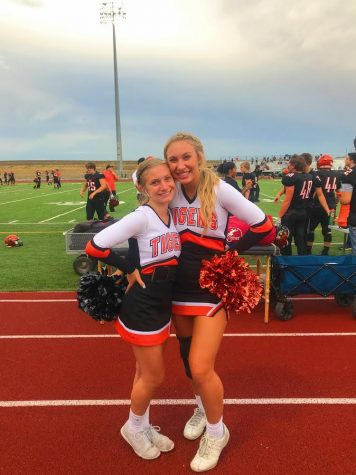 High school is something that most people look forward to and will look back on for the rest of their lives. Some leave high school with regrets about what they did not try or did not do. Others leave feeling accomplished, feeling like they made the most of the four years. Hageman for sure made the most of the time she had, making certain that when she walks across the stage, she has something to be proud of.
Cheer has had a huge role in Hageman's life, as she started it 11 years ago in Colorado Springs. Soon after, she began going to Cheer Central Suns which is where she met a lot of friends prior to high school.
"The first thing I did was cheer," Hageman says, "That was my first high school experience, doing cheer over the summer."
She is a great teammate, always cheering everyone on, and being an example for everyone else. "Izzy is an amazing base as well as an awesome tumbler and she brings a lot of energy every day," says senior Kayleigh Kneebone.
Cheer has been a really positive experience for Hageman as she has met many of her friends through it. She also won three state championships, with her first one, during her sophomore year, being her favorite. 
Winning a state championship is a huge accomplishment. Competing against all the other schools in your state, let alone your district. Being a part of something that big was definitely a memorable experience for Hageman.
She was selected to be one of the cheer captains early this school year, but because of COVID-19 and online school, keeping people connected was a challenge for Hageman.
"It was hard to get the team together since we usually do team bonding activities, so getting everyone closer during practices was different than it has been in recent years."
Pushing through challenges is what Hageman does best and clearly what they did worked, as the team took home another state championship this year.
Hageman has so many favorite memories from her high school experience, but her favorite had to be, "pep rallies… every year when we had the homecoming spirit assembly [it] was so fun to get the whole school together," Hageman says. The environment during pep rallies is so energetic and that matches Hageman's personality and what she brings to the school. 
Being involved in so many different activities means it can be difficult to balance, practices, meetings, school work since they can all add up. Right around March 13th last year was when Hageman was really feeling the weight of it all. COVID-19 was hitting and she had just gotten back from Nationals and was right in the midst of running her campaign for Student Body President. Hageman was working endlessly during those weeks, giving it her all every day.
"The way I thought of it was: I can not bail on my team for personal stuff, and for student council I was kinda like, this is my only shot to be President so I have to give it my all." With her Senior year coming up, Hageman knew she would not get another chance to run so she had to make every effort she could to earn this position.
Hageman played a large role in student government. She participated in STUGO in middle school and absolutely loved it. "I like knowing what is happening around the school and being in charge of the events." Just being involved and having a voice in the school is one of Hageman's favorite parts. It gives her a role of leadership that you would not be able to have anywhere else.
The student body president during Hageman's freshman year was one of the people who inspired her to run for president as a Senior. "I remember thinking when I was a freshman, 'I want to be like him if I ever get to be president, he was just a super great leader. Just the best, if anyone knew him, they were so lucky," Hageman says.
Obviously, because of COVID-19, there were not as many events to plan since half the school year was online, meaning Hageman could not do as much as she wanted, but she still made a change wherever she could. 
Around the time she was running, Hageman had a lot on her plate, but pushing through that stressful time clearly paid off because she was elected Student Body President. Hageman has made such a positive impact on Erie High School and the people around her. "She always tried to do what the people wanted and fought for what was right. She never gave up easily," says Kneebone.
Hageman definitely chose to make the most of her high school experience, with a lot of sports, clubs, and activities under her belt. She participated in wrestling her freshman year and, despite not continuing with it, she made so many amazing friends and memories, and she also ran track as well.
On May 6th, Hageman committed to Clemson University in South Carolina. She has been given a spot on the cheer team and is looking forward to it. Choosing a college is a really big decision and despite knowing what she was looking for, the choice was a difficult one for Hageman. "It has been super stressful but I knew I wanted a big football school with a different culture."
Eventually, she came to the decision of Clemson, loving what it has to offer. Hageman is looking forward most to all the football games to come when she will be cheering on the sidelines.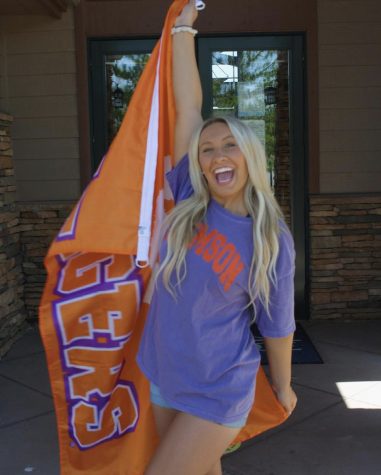 "The tryouts were very intense, they were looking for the best fit throughout three days," Hageman adds. Trying out for anything can be really nerve-wracking, especially something as big as a college, "But I clicked with the team so well, which helped my stress decrease."
Confidence is something that is important to any athlete, sometimes feeling like they will never be enough. Hageman struggled with this a little bit at the Clemson tryouts.
"The whole time I felt like I was not good enough, but I underestimated the importance of being a team player, which I think factored into their decision," Hageman remarked.
That is exactly what Hageman is, a team player, always putting everyone else before herself. Being the supportive teammate and person she is helped land her a spot at a Division I college, in addition to all the hard work she has put in over the last decade.
Hageman encourages everyone at Erie to get involved. "I think that the thing that made high school so fun for me was just being a part of so many things. You get to go to more things, you get to be with more people, and have more groups of friends."
She has no regrets about any of the activities she has done, even the times when she may have taken on more than she can handle, she always managed to persevere and get the job done. Those are the times when she worked the hardest and pushed through to make every moment count. "Do not be scared to try anything and try everything!" Hageman adds.
Hageman has lived the perfect textbook high school experience, being on varsity Cheer all four years, winning three state championships, being Student Body President, along with so much more. Despite all of this, her high school career has not been all about being cheer captain or being in STUGO, it has been about making an impact. 
Hageman has made an impression on everyone she has met, whether that has been through her great big smile or the way she treats people. She is a light to everyone around her and is a role model for everyone at Erie High School. Giving a voice to those who may not have one, or leading pep rallies to get the whole school pumped up. Izzy Hageman is leaving behind an amazing and positive legacy, not only at the high school but throughout the entire Erie community, that will not soon be forgotten.